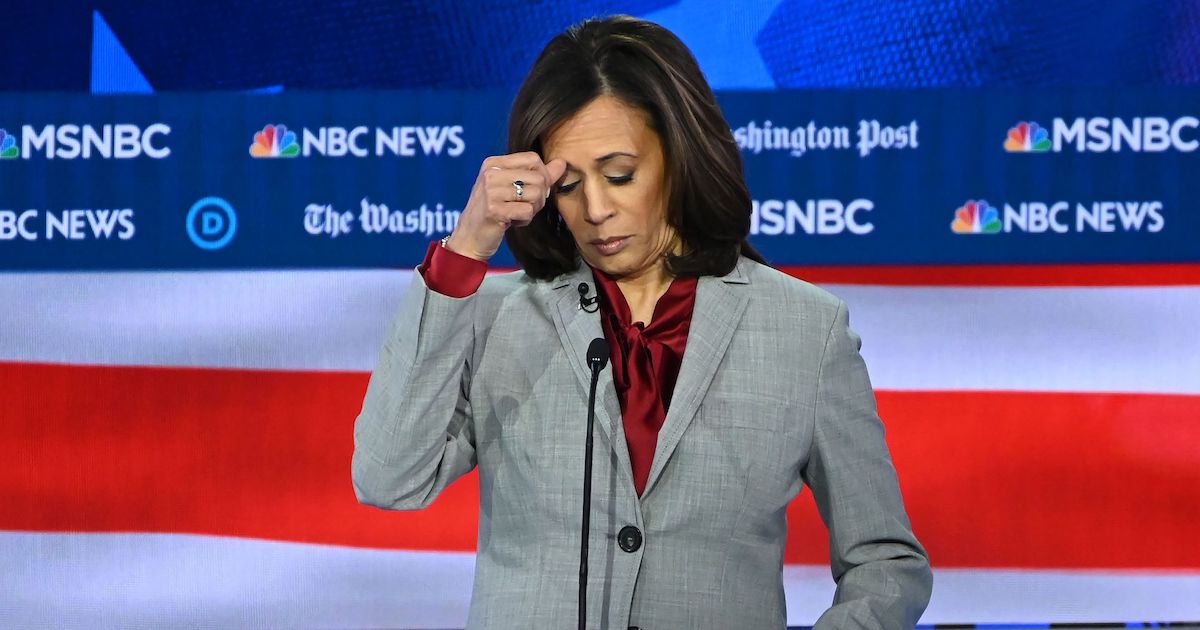 Big Media Propped Up Kalama Harris' Candidacy, Which Now Ends With a Fizzle
Senator Kamala Harris, D-Calif., has told aides that she will end her campaign for president on Tuesday. The freshman senator from the nation's largest blue state, who failed to regain traction in the polls and was facing a dire financial situation, confirmed the announcement on Twitter.
Senator Harris was immediately propped up by big media following her announcement in Oakland before 20,000 people in January. But her campaign failed to maintain a coherent message and provide a basic justification.
Richard Baris, the Director of the PPD Election Projection Model, said she was the least-liked top-tier candidate and viewed by voters as inauthentic.
"This isn't deep. She was seen by voters as a faker in the era of authenticity," he said. "Her own father condemned her for pandering 'in the pursuit of identity politics.'"
Senator Harris made headlines in February when she said during a radio interview that of course she smoked marijuana when she was younger.
"Half my family's from Jamaica. Are you kidding me?" she replied.
Donald J. Harris, her father, blasted his daughter in an unsolicited statement sent to Kingston-based Jamaica Global Online.
My dear departed grandmothers (whose extraordinary legacy I described in a recent essay on this website), as well as my deceased parents, must be turning in their grave right now to see their family's name, reputation and proud Jamaican identity being connected, in any way, jokingly or not with the fraudulent stereotype of a pot-smoking joy seeker and in the pursuit of identity politics.

Speaking for myself and my immediate Jamaican family, we wish to categorically dissociate ourselves from this travesty.

Donald J. Harris statement in Jamaica Global Online
"But above all, she had no justification for running," Mr. Baris added. "Every successful modern presidential campaign has been able to convey why the candidate was the right person for that moment."
"No one knows why Kamala Harris was running for president."
Early polling conducted by the campaign suggested "truth" was the word to use to tell her story. In response, she titled her 2019 memoir "The Truths We Hold" and initially used "Let's speak truth" in her early stump speeches.
That evolved in to a series of muddled messages from "Speak Truth" to a knock off of the "3AM Phone Call" ad used by Hillary Clinton in 2008 to "Justice for Trump."
It was not an effective use of the $25.1 million the campaign raised in the first and second quarters for the year. In total, Kamala Harris for the People raised $36.9 million. In Q3, she raised only $11.8 million and the burn rate for the campaign was an unsustainable 71%.
The campaign has not been able to afford polling or TV advertising since September.
Then, in early November, the campaign announced widespread layoffs and a renewed focus on Iowa. Only a few days later at a staff meeting in Baltimore, senior aides cornered campaign manager, Juan Rodriguez. They demanded answers to basic questions such as the direction of the campaign.
He was unable to provide those answers.
Only a few days later after that, Kelly Mehlenbacher, the state operations director, resigned in a blistering letter. Mehlenbacher blasted Mr. Rodriguez and Maya Harris (sister) for laying off staffers who had just relocated without notice.
"This is my third presidential campaign and I have never seen an organization treat its staff so poorly," Ms. Mehlenbacher wrote. "This is my third presidential campaign and I have never seen an organization treat its staff so poorly."
You Might Also Like