Rapper Azalea Banks had her Twitter account suspended after she tweeted her support for Donald Trump and slammed Hillary Clinton for how she treats minorities. Worth noting, the social media giant, which has struggled financially in the last few quarters to keep pace with Facebook, took no such action when Ms. Banks tweeted out far more egregious statements about Sarah Palin.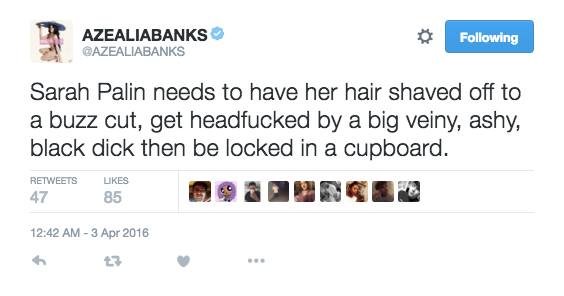 In fact, previously Ms. Banks had some pretty harsh things to say about Mr. Trump, who has been the Republican frontrunner and now presumptive nominee for the party. Again, Twitter took no such action until she tweeted over the weekend that Mrs. Clinton, the former secretary of state and Democratic frontrunner, treats black people like pets.
Twitter users responded:
Azalea Banks endorsed Trump, now her accout suspended. That is crap. We love you for your endorsement #AZALEABANKS

— Trumpertarian (@Trumpertarian) May 8, 2016
To be fair to Twitter, this isn't the first time they have suspended her account, which also didn't go over very well.
Twitter suspended Azalea Banks account for speaking the truth ??

— Chianya (@iamchianya) January 10, 2015
So they've suspended azalea banks account now, don't bow down to these demons and jelly back negros.

— I.B.K (@penflames) April 8, 2016
Last month, Facebook actually announced they will monitor and censor news to promote leftwing politics and stifle the conservative message. Ms. Banks is far from a conservative, judging by her past statements, but she joins a long list of celebrities (currently nearing 50) who have surprisingly gone public in support of Donald Trump.