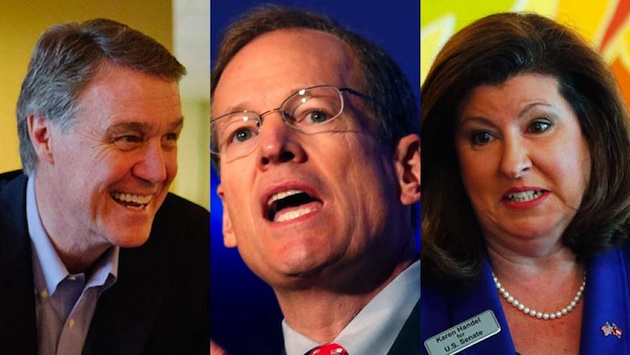 As expected, David Perdue and Jack Kingston will advance to the July 22 runoff after finishing in the top spots in the Georgia Senate Primary. With nearly 80 percent of the precincts reporting in, Perdue leads the pack with just over 30 percent, while Kingston trails in second with a little more than 26 percent. The race was surprisingly neck-and-neck until the larger counties began to report in, but Kingston still ran stronger-than-expected, in large part due to Karen Handel drawing votes in areas Perdue was expected to perform stronger.
Handel, who lost to Gov. Nathan Deal in the 2010 Republican primary for governor by less than 2,500 votes, was competing with Kingston for the top establishment slot. Unfortunately for Handel, that kind of competition comes complete with competition for donations. Since Jack Kingston was a political ally of Republican Gov. Nathan Deal, there simply wasn't room enough for the both of them.
David Perdue had a lead going to into Election Day, but never enough to expect he or any other candidate would win the primary outright. In Georgia, a candidate must win 50 percent of the vote to avoid a runoff. While it is still early, the vote totals and regional performance data suggest Kingston will have a difficult time against Perdue in the runoff with Handel out of the running.
The real loser, regardless of who wins the runoff, has been the Democratic Party. They had hoped Republicans would elect a less-than-favorable candidate, but Republican primary voters opted again for the stronger candidates. The eventual Republican nominee will go on to face Democrat Michelle Nunn, daughter of longtime Senator Sam Nunn. Though Democrats have high hopes for the candidate, she has already begun to trip up on the campaign trial.
In an interview with the liberal network MSNBC, Nunn was ill-prepared to answer a question about the paramount issue of the cycle — ObamaCare. The Georgia Senate race is rated "Likely Republican" on PPD's 2014 Senate Map Predictions.