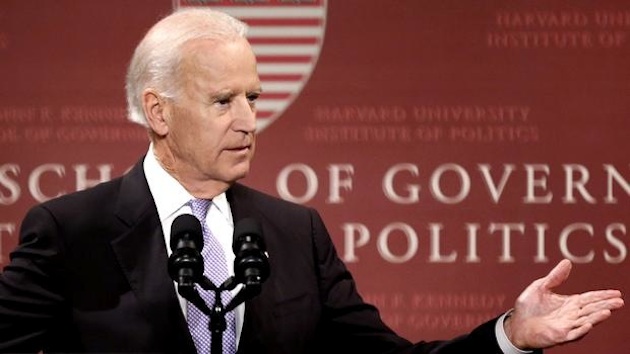 Vice President Joe Biden on Sunday was forced to issue another apology for remarks that offended U.S. allies the Obama administration is depending upon in the fight to "degrade and ultimately destroy" the Islamic State.
It was Biden's second apology in just two days and came by phone Sunday to Crown Prince Abu Dhabi Mohammed bin Zayed Al Nahyan. The White House said Biden assured the Saudis he never meant to suggest that his country was supporting Al Qaeda fighters in Syria. Al Nahyan is also the deputy supreme commander of the United Arab Emirates' armed forces.
But Biden's comments were suggestion or insinuation. Speaking Thursday at Harvard's Kennedy School of Government, in Cambridge, Mass., the gaffe-prone vice president said the Turksm the Saudis, and the Emiratis recklessly funded and armed extremist groups linked to al Qaeda. The UAE a formal clarification, and Turkey President Recep Tayyip Erdogan was furious. He denied the charges, which Biden claimed he had admitted to him, and said the vice president would become "history to me" if the administration didn't retract the allegations with an apology.
"The Turks … the Saudis, the Emirates, etc. What were they doing? They were so determined to take down (Syrian President Bashar) Assad and essentially have a proxy Sunni-Shia war," Biden said during the speech at Harvard University.
"What did they do?" he continued. "They poured hundreds of millions of dollars and thousands of tons of weapons into anyone who would fight against Assad — except that the people who were being supplied were al Nusra and al Qaeda and the extremist elements of jihadis coming from other parts of the world."
A White House spokesperson said Biden "clarified" his comments Sunday and further  the UAE's strong steps to counter extremists and participation in U.S.-led air strikes on the Islamic State, also known as ISIL and ISIS.
While the vice president has a long and renowned history of making gaffes during speeches and appearances, the latest comments threatened to collapse the U.S.-led Arab coalition.
Last week, Turkey's parliament finally approved military operations across the border in Syria and Iraq and for foreign troops to use Turkey's territory. Turkey, a NATO ally, has key strategic air fields that are pivotal to the U.S. military presence in the region, thus Obama's strategy "to degrade and ultimately destroy ISIL (ISIS or the Islamic State)."
With U.S. ground troops off the table — even though the American public now approves of sending them to defeat the Islamic State — the Obama administration has backed themselves into a corner and must now rely upon allies in the region to inevitably confront forces on the ground.
Turkey is just one of the regional powers Obama's flailing strategy depends upon, and just one that Biden's embarrassing comments insulted.
Biden also took and answered a question from the vice president of the student body by joking with profanity.
"Ain't that a bitch?" Biden said. "I mean, excuse me, the vice president thing?"