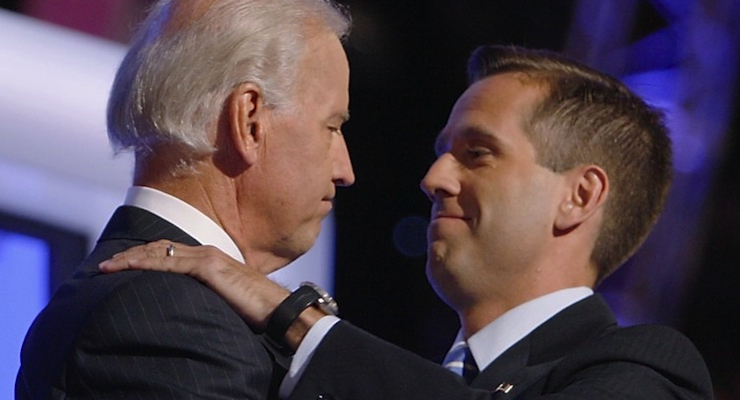 Beau Biden — son of Vice President Joe Biden — died of brain cancer at 46, the White House confirmed in a statement Saturday.
"It is with broken hearts that Hallie, Hunter, Ashley, Jill and I announce the passing of our husband, brother and son, Beau, after he battled brain cancer with the same integrity, courage and strength he demonstrated every day of his life," the statement from Vice President Biden's office said. "The entire Biden family is saddened beyond words. We know that Beau's spirit will live on in all of us-especially through his brave wife, Hallie, and two remarkable children, Natalie and Hunter."
President Obama said he and the first lady were grieving alongside the Biden family.
"Michelle and I humbly pray for the good Lord to watch over Beau Biden, and to protect and comfort his family here on Earth," Obama said in a statement released late Saturday.
Beau Biden was a lawyer and member of the Delaware National Guard and former Delaware attorney general. However, he never would follow in his father's footsteps as a U.S. senator.
Biden, who suffered a mild stroke at only 41 years old, was still planning to run for governor of Delaware in 2016. In August 2013, he had surgery at Maryland Anderson Cancer Center at the University of Texas in Houston to remove a lesion, which was followed by radiation treatment and chemotherapy. However, even though doctors gave him a clean bill of health three months after the procedure, he suffered a recurrence and was admitted to Walter Reed Hospital in May.
"I'm incredibly saddened to hear of the death of Vice President Joe Biden's son, Beau Biden," Sen. James Langford, R-OK, said in a statement. "Our entire nation mourns with the Biden family and the White House during this difficult time. Vice President Biden has endured incredible tragedies during his lifetime. Cindy and I pray for the Biden family, Beau's widow, Natalie, and their two children."
Biden first launched his campaign for attorney general promising to reorganize the state Department of Justice to better combat identity theft, Internet stalking by pedophiles, street crime and abuse of the elderly. Though he won with just 52.6 percent of the vote, he won reelection in 2010 by a landslide unopposed by Republicans. As attorney general, Biden established a child predator unit, took on mortgage lenders over foreclosure abuses, lending practices and proposed tougher bail restrictions for criminal defendants against the wishes of his own party.