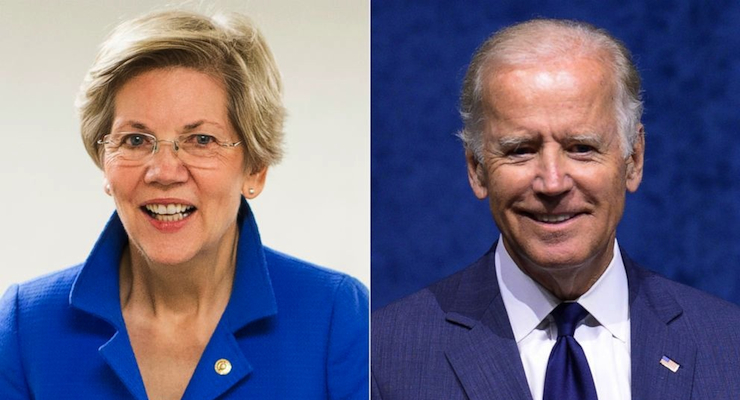 Vice President Joe Biden made an unannounced trip from his Delaware home to his Washington residence, reportedly to see meet Sen. Elizabeth Warren, D-Mass. The trip came shortly before Josh Alcorn, a family friend and leader of "Draft Biden," an effort to get the vice president to run for president against Hillary Clinton, touted the groundswell growing for a Biden bid.
The meeting is noteworthy because Democratic activists and donors have for months been trying to get the first-term Massachusetts senator to seek the party nomination. Warren's far left progressive views stand in contrast to the front-runner Democrat Hillary Clinton, whom the party doesn't trust ideologically.
But Warren made clear she would decline the opportunity to run against the Clinton machine, and hasn't indicated she will change her mind in the wake of Clinton's slipping polls numbers. Plagued by the email controversy, advisors to the 72-year-old vice president now believe he has a chance to fulfill the wishes of his late son Beau Biden began, who wanted to see his father become president.
Biden ran in 1988 and 2004 but failed to get past the primaries, leading the vice president to consider a third run only if they can put together "a competitive campaign." CNN reported that the Biden-Warren meeting took place at the Naval Observatory at the vice president's residence. Biden's official schedule shows him spending the weekend in Delaware. The administration confirmed Saturday only that Biden went to his Washington residence for a last-minute meeting.
Meanwhile, Alcorn signed up longtime Democratic strategist Steve Schale, who helped President Obama win Florida in 2008 and 2012. A recent Quinnipiac Poll showed Biden running strong in head-to-head match-ups with Republican candidates in key states, and Alcorn says the vice president has a growing grassroots support network.
"We have a grassroots list of 200,000 people that's growing every day," Alcorn, senior adviser for Draft Biden 2016, told "Fox News Sunday." "He may not have the financial resources, but there is a groundswell of support."
But Alcorn did express concern that an announcement–which is now expected in October–must be made soon as to ensure the vice president has a place on the first debate stage.
"I think having the vice president on that debate stage is an important part of the campaign," Alcorn said.