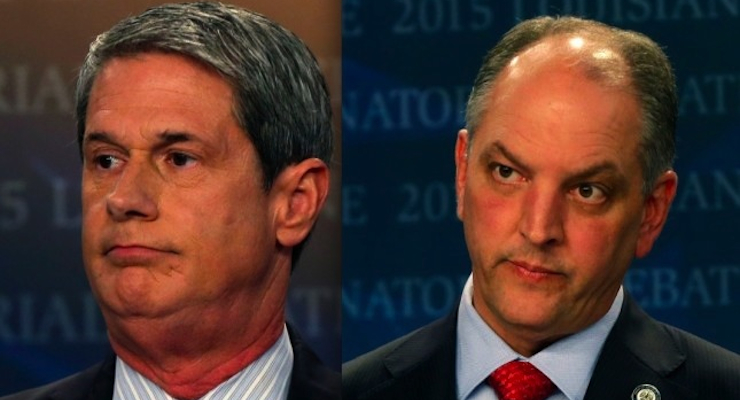 Democrat John Bel Edwards defeated Republican Sen. David Vitter, R-La., in the Louisiana governor race, PPD has projected. It is the first time a governor has won the statewide office since 2008 following current Gov. Bobby Jindal being term-limited out of office.
"The people have chosen hope over scorn, over negativity and over distrust of others," Edwards said in his victory speech, before leading a second-line parade with a jazz band through the French Quarter hotel ballroom.
At least $30 million was spent on the race in the deeply red state, which was expected to be Vitter's to lose. But, ultimately, the Republican lost because 1) he was plagued by scandal involving a "D.C. Madam" and 2) his scorched earth policy during the Republican primary was seen as unforgivable by many in his own camp.
"I will be honest with you," Edwards frequently said on the stump, a clear hit at Vitter for the prostitution scandal. "I will never embarrass you."
He ran ran a TV ad that said Vitter missed a vote to honor soldiers because of a phone call from the prostitution service, choosing "prostitutes over patriots." Further, Edwards, a former Army Ranger, all but abandoned the "D" next to his name and instead played up his pro-gun and ant-abortion stances, billing himself as a conservative Democrat.
Though it was too little too late, Vitter eventually tried to respond to the scandal directly in a TV spot saying I "failed my family." An ad featuring Willie Robertson, an outspoken Christian from the popular reality TV show "Duck Dynasty," showed the reality star saying "I know he's made some mistakes, but who hasn't?"
"His campaign is built on a myth that he is some sort of a conservative, that we don't differ on the issues, when we definitely do," Vitter said.
When the totals are tallied up by the Federal Election Commission (FEC), the record is expected to the Louisiana governor race to be the most expensive in the state's history.