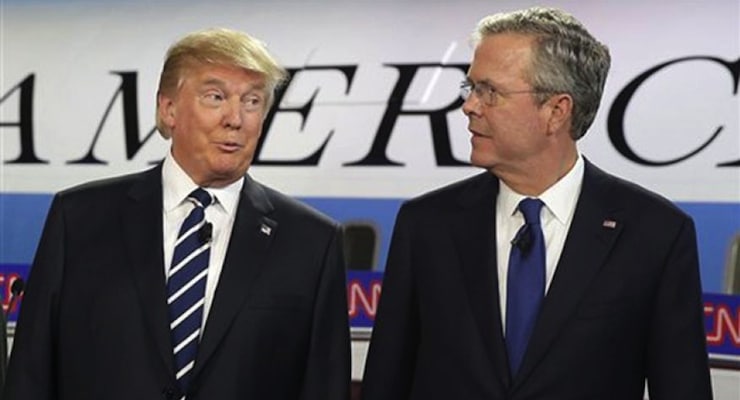 "Forget About a Third President Bush, This Road Leads to a Second President Clinton"
The Republican Party's "guerrilla campaign" to destroy frontrunner Donald Trump could very well doom the GOP's chances at the White House in 2016. Liz Mair, a former communications official for the Republican National Committee, is leading a group called Trump Card LLC that is funded by secret donors collectively moving to take down Trump.
Though it has been reported that these secret donors have ties to multiple declared candidates for the nomination, PPD has confirmed the most significant contribution will come from allies of former Florida Gov. Jeb Bush located in his adopted home state, Texas and the Northeast region. The second and third largest contributions will come from supporters of Florida Sen. Marco Rubio and Ohio Gov. John Kasich, in that order.
"The Republican Party is gearing up to do what they do best–shoot themselves in the foot," said PPD's senior political analyst Rich Baris. "Not only do our surveys show this push is likely to backfire with GOP primary voters, but it is also likely to provoke a devastating response from Trump, himself."
In September, the billionaire real estate mogul signed a party pledge not to run as an independent come the fall, putting an end to speculation that completely terrified the party establishment. But with the onset of reports widely confirming the secret movement to collectively unseat the frontrunner, The Donald has since indicated a willingness to back away from the pledge.
"I will see what happens," Trump said. "I have to be treated fairly. If I'm treated fairly, I'm fine."
In return for the billionaire real estate mogul signing the pledge, RNC Chairman Reince Priebus and other party operatives gave Trump assurances he would be treated fairly. However, a move to "defeat and destroy" a frontrunner that has held a 4-month lead would be as unprecedented for a party primary as the lead, itself. Baris says that would not only constitute a breach of the deal on the party's behalf but, if Donald Trump decides to run as an independent, would almost certainly result in a second President Clinton rather than a third President Bush.
.@WSJ reports that @GOP getting ready to treat me unfairly—big spending planned against me. That wasn't the deal!

— Donald J. Trump (@realDonaldTrump) November 23, 2015
"While I have a number of comments in mind that I could challenge him on, he's absolutely right when he says he has been the counter-puncher since he announced," Baris said. "If you push the man too far and he runs as an independent, it's all over for the GOP. Forget about a third President Bush, this road leads to a second President Clinton."
Baris cited recent surveys showing Trump earning up to a third of the general election vote in a three-way matchup against Hillary Clinton and a generic Republican candidate. Trump has brought in both new voters to the Republican fold as well as independent voters who have chosen to sit out recent elections. But, according to Baris, the party elites are showing they don't truly care about expanding the party's appeal, at least not when Trump's the catalyst for that expansion.
"Unlike the more conservative base of the party, the Republican establishment is always willing to take their ball and go home," Baris added. "Only this time they have more reason not to care about the consequences. If Trump is elected they will have little power over the White House anyway, so they see their lack of influence as a non-factor."