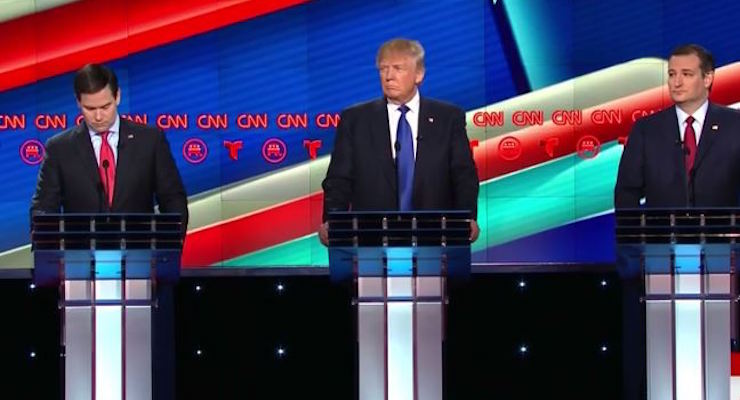 Florida Sen. Marco Rubio and Texas Sen. Ted Cruz threw everything including the kitchen sink at Donald Trump during the 10th Republican debate in Houston. As usual, the media quickly declared Sen. Rubio the victor. But in politics we see what we want to see, not necessarily reality.
The reality is that there likely wasn't a single issue or attack line leveled by either desperate senator that stuck to the frontrunner. As I've repeated over-and-over, Mr. Trump's appeal is attitudinal, not ideological. A dominant plurality, which is quickly approaching a majority of primary voters in many states, see what most pundits and pols believe to be weaknesses as strengths.
For instance, nobody cares Trump neckties are manufactured in Mexico. Not only do voters understand a smart businessman would manufacture products where the cost is lower, but also view Mr. Trump as best suited to handle this economic disadvantage because of his experience. Unlike the rest of the field, he's actually in the game, he doesn't just talk about it. Sen. Rubio, on the other hand, hasn't held a single job in the private sector and voters–particularly Floridians–know it.
"I'm the only person on this stage who's actually hired someone," Trump said in response to Rubio's attack.
Let's look at reality, the big picture and the aggregate data relevant to the Super Tuesday states.
Of voters who support Mr. Trump, roughly 80% say their minds are made up, while only about 17% say they are still persuadable. By comparison, only 45% of Sen. Rubio's supporters are firm, while roughly 60% say they can change their mind. In Iowa, South Carolina and Nevada, Sen. Rubio won the final week before the vote and late-breaking voters, according to the exit and entrance polls.
But Sen. Rubio hasn't won a single state while Mr. Trump has won the last six months. In politics, early preferences are often very difficult to reverse.
"I mean, this guy [Rubio] is a choke artist and that guy's [Cruz] a liar," largely neutralizes any impact the senators and their supporters think they may have had on Trump. In one sentence, he reenforced what has plagued both candidates in recent weeks.
Sen. Cruz has firmer support. Among Mr. Cruz's supporters, 58% say their minds are made up and 40% remain squishy. But the Texas senator has failed to even consolidate his targeted voting blocs against Mr. Trump, let alone demonstrate he is capable of expanding that appeal. Unfortunately, he is quickly running out of time.
The bottom line is that neither Sen. Rubio nor Sen. Cruz are going to have a break out moment in a debate. We are way beyond that now. One of them need to make a decision to withdraw from the race, but it still may be too late.
Appearing on the morning shows Friday, Sen. Rubio robo-repeated a talking point that "we are not going to let a con artist take over the Republican Party." In reality, both Cuban-American senators are trailing in the delegate race, the polls and are in danger of losing their home states on March 1 and March 15. It's happening, and nothing that happened Thursday night will change that. Mr. Trump's rivals better come up with something better than largely six-month old attacks or it's all over.
Also Read — Trump Trouncing Rubio 1-on-1 in Latest Florida Republican Primary Polls