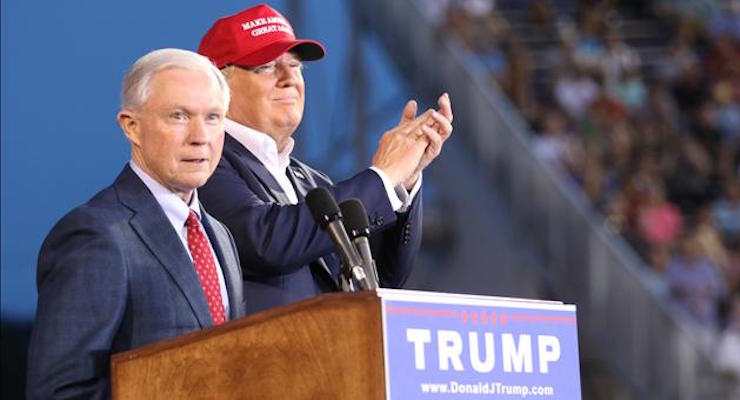 Sen. Jeff Sessions, an anti-amnesty hero who led the fight against the 2013 "Gang of Eight" Senate bill, endorsed Donald Trump at a rally on Sunday in Alabama. The endorsement is a major blow to Texas Sen. Ted Cruz, who has been repeating on the campaign trail that he stood with Sen. Sessions in fighting the amnesty bill, which was co-sponsored by Florida Sen. Marco Rubio.
"I am thrilled today to offer my endorsement of Donald J. Trump for President. This election is our last chance to save U.S. sovereignty and to end the domination of the political establishment over the interests of working Americans," Sen. Sessions said, donning one of the red caps emblazoned with the Trump "Make America Great Again" campaign slogan. "Trump alone has rejected the donor class, defending America's jobs and wages from open borders, uncontrolled immigration and the massive Trans-Pacific Partnership that will cede U.S. authority to foreign powers."
"Trump's trade and immigration plans will revitalize our shrinking middle class, keeping jobs and wealth and income inside the United States of America," Sen. Sessions added. "Trump understands that a nation must always place the interests of its own people first."
Mr. Trump teased the announcement on Twitter as he made his way to a rally just ahead of the biggest day on the election calendar.
I will be making a big surprise announcement to the massive crowd assembled in Huntsville/Madison Alabama! Landing now! #Trump2016

— Donald J. Trump (@realDonaldTrump) February 28, 2016
"I am deeply honored to have the endorsement of Senator Jeff Sessions, leader of congressional conservatives. He has been called the Senate's indispensable man and the gold standard," Mr. Trump said in a statement.
"He led the fight against the Gang of Eight, against Obama's trade deal, against Obama's judges, and for American sovereignty," the frontrunner added. "He has stood up to special interests as few have. There is no more respected man in Congress and we are closely aligned on many issues, including trade and illegal immigration, and I am proud to consider Jeff Sessions an advisor, friend and ally."
On Sunday in Madison, Sen. Sessions said Mr. Trump is the candidate to finally address illegal immigration and fix a broken system that works against the American worker. But it was Trump's message of negotiating and dropping bad trade agreements that appeared to be decisive to the popular senator.
Ultimately, Sen. Cruz voted to give President Barack Obama fast-track trade authority for the Trans-Pacific Pact, which critics argue gives away American sovereignty, hurts American workers and makes backdoor amnesty a requirement for participation.
THANK YOU ALABAMA! 32,000 supporters tonight. Get out & VOTE on Tuesday! WE WILL MAKE AMERICA GREAT AGAIN! pic.twitter.com/rOkldN7dat

— Donald J. Trump (@realDonaldTrump) February 29, 2016
While the Cruz campaign had hoped for both the endorsement of Sen. Sessions and a win in most SEC Primary states, including Alabama, Trump now gets a big boost ahead of Super Tuesday. Mr. Trump also leads in the PPD average of Alabama Republican Primary polls by double-digits (15%). There are 50 delegates up for grabs in Alabama, which awards its delegates on a "Winner-Take-Most" basis.
However, due to the voting threshold, it is possible that Mr. Trump takes all 50 delegates at play, as he did in South Carolina.
"We are nearing fast the point of no return. The people are hurting. Their wages are declining. Their schools are overburdened. Their hospitals are stretched past the breaking point. Crime is up, and community confidence is down," Sen. Sessions added. "Americans of all backgrounds and ethnicities, immigrant and US-born, are crying out for leadership that puts their needs first, that takes care of those living and dreaming here today, leadership that understands that there is no constituency other than the American constituency. Mr. Trump is that leader."