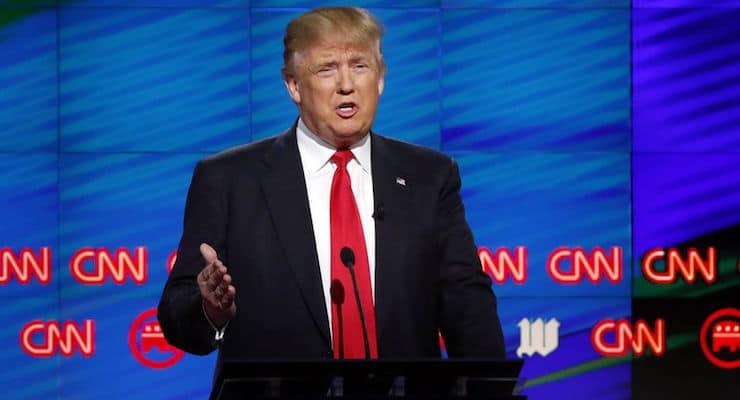 Donald Trump has defeated Texas Sen. Ted Cruz in the Illinois Republican Primary, notching his third win behind Florida (99 delegates), and North Carolina. Illinois awards a portion (12) of its delegates based on the winner of the statewide vote, with another 54 delegates awarded on the basis of the vote in congressional districts.
As the vote appears now, Mr. Trump could potentially make up for his loss in Ohio to Gov. John Kasich by winner the total vote in each of the congressional districts. With 41.8% of the vote reporting, the trend makes it very possible.
The Republican frontrunner sought to unify the party in his speech in Palm Beach, Florida, telling the party they should embrace the enormous voter-turnout and excitement generated by his candidacy.
"We have to bring this together," Mr. Trump said. "We have to unify. Something is happening in this country and we have to embrace it."
Candidate
Popular
Vote
Delegate Votes
Soft
Pledged
Soft
Unpledged
Soft
Total
Hard Total
Trump, Donald John, Sr.
548,529  38.84%
52  75.36%
 
52  75.36%
52  75.36%
Cruz, Rafael Edward "Ted"
428,361  30.33%
9  13.04%
 
9  13.04%
9  13.04%
Kasich, John Richard
278,239  19.70%
8  11.59%
 
8  11.59%
8  11.59%
Rubio, Marco A.
122,209   8.65%
 
 
 
 
Carson, Benjamin Solomon "Ben", Sr.
11,141   0.79%
 
 
 
 
Bush, John Ellis "Jeb"
10,766   0.76%
 
 
 
 
Paul, Randal H. "Rand"
4,591   0.33%
 
 
 
 
Christie, Christopher James "Chris"
3,263   0.23%
 
 
 
 
Huckabee, Michael Dale "Mike"
2,658   0.19%
 
 
 
 
Fiorina, Carleton Sneed "Carly"
1,495   0.11%
 
 
 
 
Santorum, Richard John "Rick"
1,123   0.08%
 
 
 
 
Uncommitted
 
 
 
 
 
Total
1,412,375 100.00%
69 100.00%
0
69 100.00%
69 100.00%
Delegate Selection: Combined Selection Winner-Take-All Primary Statewide, Loophole Primary District,
Polling hours 6:00a CDT (1100 UTC) to 7:00p CDT (0000 UTC).
Voter Eligibility: Open Primary
Voter Participation: Party members
Voter Affiliation: Party affiliation is changed

69 total delegates – 10 base at-large / 54 re: 18 congressional districts / 3 party / 2 bonus