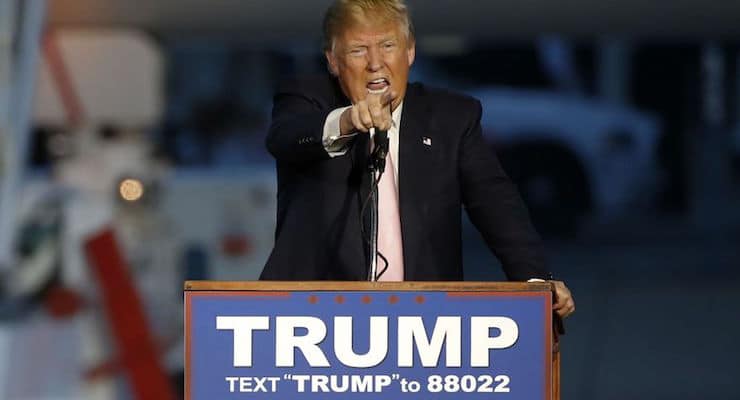 The Republican National Committee (RNC) is beginning to warm up to the idea of Donald Trump becoming the nominee and is growing more concerned about attempts to block him at the convention.
Mr. Trump warned about "riots" last week if party elites tried to shaft him if he comes close but falls short of the 1,237 delegates needed to secure the nomination. But many Republicans are at least concluding a voter revolt and subsequent electoral disaster is in fact the most likely outcome if that scenario comes to fruition.
"Sounds like some members are starting to wake up to reality," said PPD's senior political analyst Richard Baris. "Particularly with President Obama's approval as high as it is, the Republican nominee and down-ballot candidates will need Donald Trump's voters, period. Historically and demographically, they will need an infusion of new voters, akin to George W. Bush bringing Perot supporters back into the GOP, if they hope to have a chance. "
As a result, the RNC is weighing whether to throw out the 1,500-page rule book, which is based on the parliamentary handbook of the U.S. House of Representatives, in favor of a more simple system that they say will stop efforts to unfairly deny Mr. Trump the nomination. The current rule book allows for backdoor, arcane legislative-like maneuvers to do just that and members are looking to force more transparency at the Republican National Convention in July.
"We poll and speak to these [Trump] voters all the time," Baris added. "If they feel party elites unfairly denied Trump the nomination at all, they're gone. Plain and simple."
While the rule changes certainly wouldn't guarantee Mr. Trump the nomination, they would make it easier for the media and pro-frontrunner forces to see the changes anti-Trump activists and elites are attempting to push through.
A growing number of RNC members want to use Robert's Rules of Order–a standard manual used by entities such as civic associations, county boards and state legislatures–to govern floor action at the convention. Worth noting, RNC members pushing for the change are not exactly Trump supporters, but they are all very concerned about optics and a potential electoral defeat in November without Trump's voters.
Many members want to make it harder–if not impossible–for party elites to make backroom deals and "steal" the Republican nomination from Mr. Trump, the going away current frontrunner.
"To make this convention more transparent, I will advocate, at the RNC Standing Rules committee meeting in April, adoption of Robert's Rules of Order to replace the 1,500-page U.S. House rules to govern the convention," Oregon RNC member Solomon Yue told The Washington Times last week.
RNC Chairman Reince Priebus said the Republican Party must champion transparency at the convention, but he has not yet publicly taken a position on the proposed rules change. However, sources prior to the Florida Republican primary on March 15 told PPD that the chairman would be "lamenting anti-Trump efforts if he beat Marco Rubio in his home state."
Well, the New York businessman did beat the first-term Florida senator, handily. Except for Ohio, Mr. Trump has won all the critical states Republicans will need if they hope to wrest back control of the White House from Democrats in the fall. Yet, some members say even if Mr. Priebus does publicly oppose the anti-Trump maneuvers, there will still be efforts by the more liberal establishment wing of the party to stop the frontrunner and his agenda.
"There will be efforts by moderates and liberals on the floor to change the platform," Yue said.
To be sure, even in the event Mr. Trump secures the needed delegates, fights are expected over free trade, immigration and a slew of other issues, said RNC Rules Committee special counsel James Bopp Jr.
"No one knows U.S. House rules, and so that creates suspicion and uncertainty among the delegates—and the chaos we want to avoid," Mr. Bopp said. "People don't know what they can and can't do and are afraid others who do know will hoodwink them."
The major obstacle to the party elite's plans to derail The Donald stems from Rule 40b, which was adopted at the 2012 Republican National Convention and requires a candidate to win a majority of delegates from at least eight states before they can be considered for a nomination vote. Thus far, only Mr. Trump has met that bar and Texas Sen. Ted Cruz may cross that bridge on Tuesday if he wins a majority in Utah.
Ohio Gov. John Kasich, who set off members' alarm bells by hiring "experts" in contested and brokered conventions last week, has only won his own state. Gov. Kasich has said that a floor fight would be "fun" and "educational." Others point to history, which offers no example of a floor fight leading to a successful presidential nominee.
Rule 40b wasn't changed in January when the RNC met last because representatives from all of the campaigns at the time believed their candidates would meet the state threshold, said Randy Pullen, an RNC member from Arizona.
Still, Peter Feaman, a committeeman from Florida and a member of the party's rules committee, told The Washington Times RNC members are warming to the idea of Mr. Trump as the party's nominee.
"If he is going to be the will of the people, then the RNC is going to be all in," Mr. Feaman said.
Trump supporters worry that the party establishment, which has moved heaven and earth to stop his march to 1,237 delegates, will manipulate rules or bring in a "compromise candidate" if after a series of ballots no candidate is able to prevail.
"I'm not going to stand for that," said Carolyn McLarty, a national committeewoman from Oklahoma. "The duly elected delegates to the convention are the ones that are going to nominate our candidate, not anyone behind the scenes."
Mrs. McLarty, a Cruz supporter, said she "softened a bit" in her opposition to Mr. Trump and now considers him an acceptable nominee. Mr. Feaman also said that even if Mr. Trump arrives at the July convention in Cleveland just shy of 1,237 delegates, he would still be "the odds-on favorite to be the nominee."