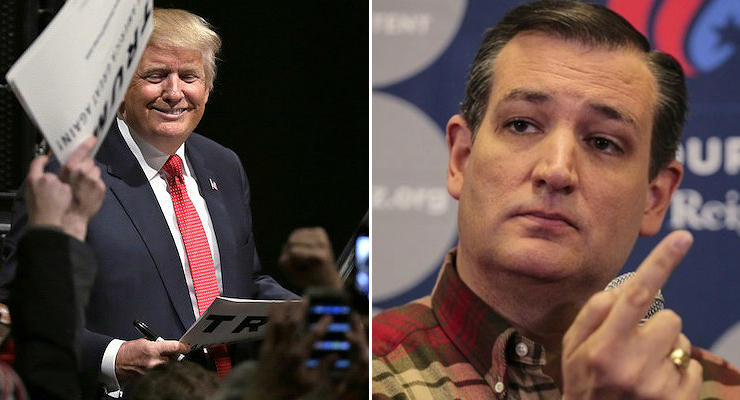 Texas Sen. Ted Cruz accused Donald Trump of being behind a National Enquirer story claiming he cheated on his wife with five different women. Speaking to reporters in Oshkosh, Wisconsin, on Friday, Cruz accused "Trump and his henchmen" of pushing a story he called a "garbage" story and a "tabloid smear."
Recently, Trump responded to Cruz's allegations.
"I have no idea whether or not the cover story about Ted Cruz in this week's issue of the National Enquirer is true or not, but I had absolutely nothing to do with it, did not know about it, and have not, as yet, read it," Mr. Trump, the Republican front-runner said in a statement posted to Facebook. "Likewise, I have nothing to do with the National Enquirer and unlike Lyin' Ted Cruz I do not surround myself with political hacks and henchman and then pretend total innocence."
The "pretend total innocence" comment is a reference to an pro-Cruz and anti-Trump super PAC ad that showed a GQ photo of Melania Trump half naked from an issue with subtitle stating: "Meet the next first lady. Or, you could vote for Ted Cruz."
Sen. Cruz claimed to have had no knowledge of or control over what the super PAC ran because federal election law prohibits coordination between PACs and campaigns. Newsflash: Every reporter and operative knows that law is broken everyday by everybody. On the flipside, Cruz's allegation comes from Mr. Trump having known the head of the National Enquirer for years.
"Ted Cruz's problem with the National Enquirer is his and his alone, and while they were right about O.J. Simpson, John Edwards, and many others, I certainly hope they are not right about Lyin' Ted Cruz."
"@11phenomenon: #LyingTed blames @realDonaldTrump for so many things I am starting to think he is having a mental health crisis."

— Donald J. Trump (@realDonaldTrump) March 25, 2016
"I look forward to spending the week in Wisconsin, winning the Republican nomination and ultimately the Presidency in order to Make America Great Again."
Roger Stone, a former Trump adviser quoted in the report, suggested the accusations of adultery could have merit and hurt Cruz's campaign. While the National Enquire is a tabloid, they did correctly report on the scandals Mr. Trump mentioned in his statement. But, thus far, at least one of the five women in the story, who is now Trump's national spokeswoman, has denied the report.
"These stories have been swirling about Cruz for some time," Stone said. "I believe where there is smoke there is fire. I have to believe this will hurt him with his evangelical Christian supporters."