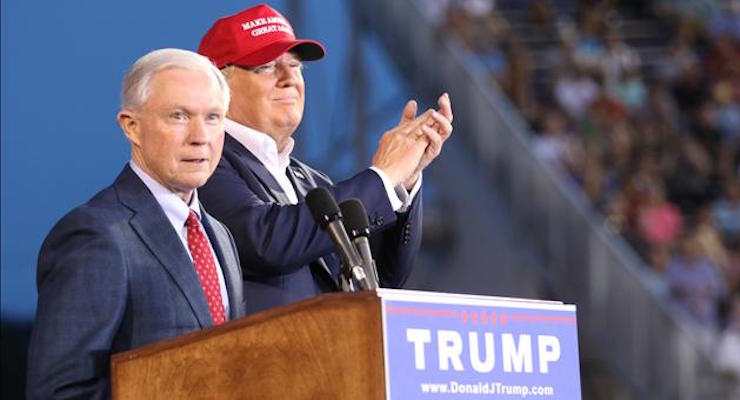 Alabama Sen. Jeff Sessions is reportedly Donald Trump's first choice for his vice presidential running mate. However, with less than a month to go until the party's convention, when the presumptive Republican nominee said he would unveil his VP pick, the truth is that no one really knows for sure.
Newsmax's John Gizzi reported that "sources" close to the candidate say that Sen. Sessions is the top choice at the moment. However, People's Pundit Daily (PPD) can only confirm that the staunch defender of immigration law, pro-American trade and early supporter of Mr. Trump is in the running.
"The square Sessions seems to fit many square holes for Trump: he's conservative and nails down the party's right flank, he endorsed Trump early and has been extremely loyal, he has Washington legislative experience — a key requirement — and importantly, he can be totally trusted never to criticize Trump no matter what he might say in the coming months," Gizzi wrote.
The pick not only helps to "nail down" the conservative flank, but also to reenforce the populous working class message Mr. Trump has championed on trade and other issues. Sen. Sessions enjoys an 80% on the Heritage Action scorecard, which gauges a lawmakers conservative voting record. That's above the paltry Republican average of 58%. Sen. Sessions also scores over 94% in the lifetime rating for the American Conservative Union, the group that sponsors CPAC.
The Alabama senator played a pivotal role during the Republican primary. Texas Sen. Ted Cruz spent months on the campaign trails before a vote was tallied citing his support for Sen. Sessions during the amnesty fight, something that is at best an exaggeration. In what was a stunning development, the conservative heavy weight from Alabama backed Mr. Trump, a New York businessman and first-time politician.
He cited the need for someone the people could really trust on immigration and, as PPD previously reported, someone who would fight for working Americans on trade deals. Sen. Cruz, who said he could back the Senate Gang of Eight with a rider he authored, also first supported the Trans-Pacific Partnership Trade Agreement, or TPP, which most conservatives believe would have been the end of national and economic sovereignty.
Still, even Mr. Gizzi concedes no decision has been made at this time. Mr. Trump has repeatedly stated he would make the announcement at the convention, which begins on July 18. PPD can confirm that former House Speaker Newt Gingrich and former Defense Intelligence Agency Director Michael Flynn are also on the short list.