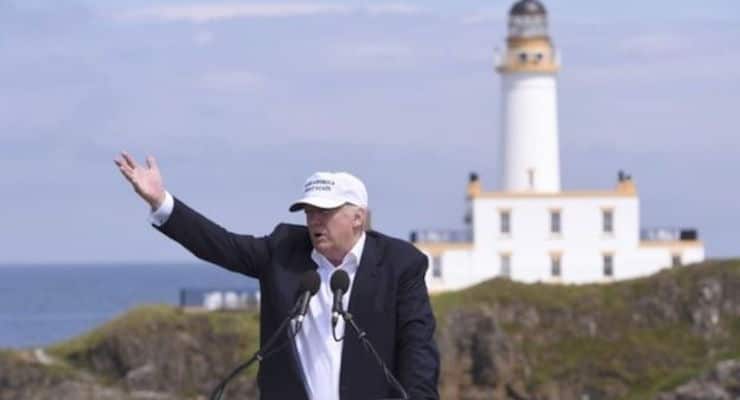 Presumptive Republican nominee for President Donald Trump said the Brexit vote is a "great thing" and that the people of the United Kingdom have "taken back their country" in voting to leave the EU. Mr. Trump's comments came in Scotland as he arrived at Trump Turnberry for the reopening of the Open venue golf resort.
"I think it's a great thing that's happened. It's an amazing vote, very historic," Mr. Trump said. "People are angry all over the world. They're angry over borders, they're angry over people coming into the country and taking over and nobody even knows who they are."
He also predicted more EU member nations will vote to leave, driven by voters who are angry with the global elite and globalism order.
"They're angry about many, many things in the UK, the US and many other places. This will not be the last."
Mr. Trump also gave a shout out to his mother by acknowledging his family connection to Scotland. His mother, Mary MacLeod, was born in Stornoway in the Outer Hebrides. He noted how his mother would often visit Turnberry for dinner with friends, though she never played golf.
"She loved Scotland, she would be here a lot," Mr. Trump said. "She would come every year with my sister Mary and my sister Elizabeth and they just loved it. Her loyalty to Scotland was incredible."
He also pushed back on the fear-mongering from those opposed to Britain leaving the EU and said trade for the country and its biggest trading partner will have a stronger, more prosperous trading relationship.
"Basically, they took back their country. That's a great thing," he added. "I think we're doing very well in the United States also, and it is essentially the same thing that is happening in the United States."