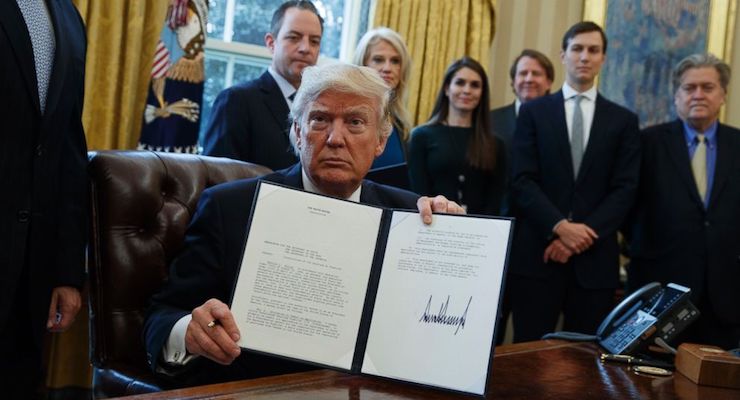 President Donald J. Trump has just signed two executive orders for the construction of a border wall and to crack down on sanctuary cities. The president took action during a visit to the U.S. Department of Homeland Security (DHS), where he outlined his bold new agenda regarding immigration enforcement.
In Border Security and Immigration Enforcement Improvements, President Trump put an end to the catch-and-release program, increased U.S. Customs and Border Protection personnel by 5,000 people and took action to put an end to asylum fraud.
The second executive order–Enhancing Public Safety in the Interior of the United States–aims to put an end sanctuary cities, which polling shows voters overwhelmingly support. A recent survey found 62% of likely voters wanted the Department of Justice (DOJ) to punish cities that provide sanctuary for illegal immigrants.
The order also calls for action to identify criminal illegal aliens, triples the amount of Immigration and Customs Enforcement (ICE) agents and empowers them to enforce existing federal immigration law. It also creates victims' advocacy offices for American citizens who loved ones had been harmed by acts committed people who should have never been here in the first place.
The actions both represent the fulfillment of major promises the president made to voters on the campaign trail and in his Contract with the American Voter. President Trump was the first political candidate ever of any major political party to receive the endorsement of the U.S. Border Patrol Union and frequently visited the families of those who's loved ones were killed by illegal immigrants.
Still, leftwing Democratic officials continued to dig in following the order.
"Shame on him," Lawrence, Mass., Mayor Daniel Rivera said in a statement regarding the order on sanctuary cities. "There's so many other things to worry about. Nobody in a red state is going to get a job or have their life become better because he victimizes these immigrants."
White House Press Secretary Sean Spicer said on Wednesday the order would direct the DHS secretary to look at funding streams and determine "how they can be cut off" for sanctuary districts. The Trump administration will undoubtedly have a fight on their hands and make clear to local officials what they are willing to do to enforce existing law, as well as the executive order.
"Given that today's [executive order] was simply a directive and did not even make clear if there were any significant funding streams that the Trump administration could cut off to Philadelphia, we have no plans to change our immigration policy at this time," Lauren Hitt, a spokeswoman for Philadelphia Mayor Jim Kenney said in a statement.
Ms. Hitt added that Philadelphia has a "responsibility" to keep "undocumented human beings" safe, and will now be forced to explain who exactly she is referring to. Unlike the past, the order requires DHS to publish the crimes committed by illegal immigrants each month, a stark contrast from what was an active effort by the government the media to cover up these crimes.