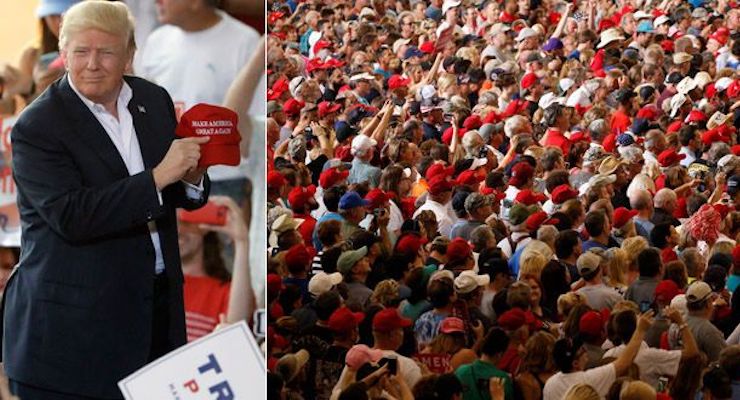 In a 50-minutes speech on Saturday, President Donald J. Trump sought to rally supporters and paint D.C. as the enemy of the people and center of corruption. He also touted the work his administration has already gotten done and the agenda moving forward for the future.
"I am here to tell you about our great progress and our incredible plans for our future," President Trump said at a rally in Melbourne, Florida. "I am here because I want to be among my friends and among my people. This was truly a great movement."
He slammed the "dishonest media" and called them a "a big part of the problem," vowing to build a "beautiful" wall on the southern border, to replace "disastrous" ObamaCare and take his message directly to the people who elected him.
"I also want to talk to you without the filters of fake news," he told a crowd of roughly 10,000 at the Orlando Melbourne International Airport near Melbourne. "They have their own agenda."
The president pushed back on the media narrative claiming his administration is in disarray, saying it was a "fine-tuned machine" despite inheriting "one big mess." He mocked the suggestions that he and members of his administration coordinated with Russia.
On Saturday, he also repeated what he said Thursday about his administration running like a "fine-tuned machine" and that he inherited "one big mess," knocking back criticism about a rocky start and suggestions that he and his administration are working in coordination with Russia.
The state, which he won after visiting some 23 times during the 2016 presidential election, is friendly territory for the president. He carried the largest battleground after Barack Obama won it twice in both 2008 and 2012.
"Thank you," he said to the crowd. "This is a state where we all had great victory together."
President Trump won on a platform promising to "drain the swamp," among other key issues. Since the first days of the Trump Administration, the swamp has been fighting back with illegal leaks of classified information, some of which reportedly gathered by illegal wiretaps. Lt. Gen. Michael Flynn was asked to resign after one such leak revealed he misled Vice President Mike Pence over the content of his communication with a Russian ambassador during the transition.
"I hear your demands. I hear your voices," President Trump said. "And I promise you, I will deliver."