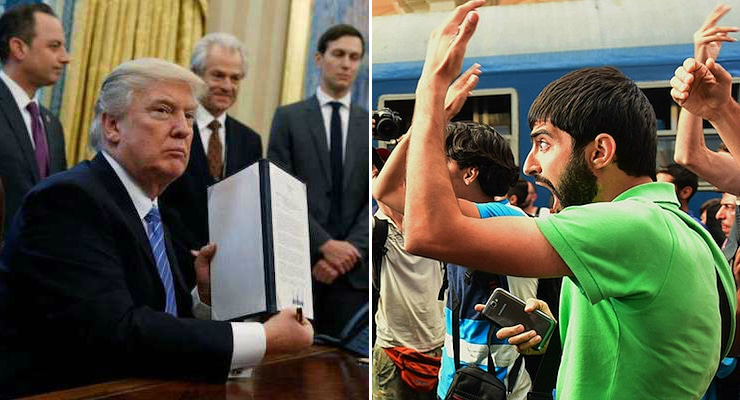 President Donald J. Trump will issue a new executive order travel ban targeting the same 7 countries but with exemptions. Travelers who already have a visa to travel to the U.S., even if they haven't used it yet, will be excluded in an effort to avoid legal challenges in liberal courts that halted the initial executive order.
An official who spoke on the condition of anonymity said the order will target only those same seven Muslim-majority nations–Iran, Iraq, Syria, Somalia, Yemen, Sudan and Libya–but also does not single out Syrian refugees when processing new visa applications. The president himself last week said the order would be issued sometime this week, and Homeland Security Secretary John Kelly at the Munich Security Conference on combating terrorism Saturday mentioned "seven nations."
Secretary Kelly said he will "make sure that there's no one caught in the system of moving from overseas to our airports" after the new order is issued.
President Trump was forced to come up with a second order after the 9th Circuit Court of Appeals unanimously upheld a stay issued by U.S. District Judge James Robart on his original executive order on immigration and refugees. The decision from the most liberal, most overturned court in the country received heavy criticism from legal experts on both sides of the aisle almost immediately after it was released.
"These concerns are more about litigation rather than constitutional standards in this controversy," liberal law professor Jonathan Turley opined on the judges focus of the case.  Alan Dershowitz, another liberal law professor, said the 9th Circuit's ruling was "not a solid decision," adding "Trump will win at the Supreme Court."
"They're not citizens, they're not permanent legal residents," Mark Levin, a conservative talk radio host and constitutional scholar said of those impacted by the travel ban. "They have a visa. That's it! And the government can yank the visa whenever the hell it wants to!"
The official said the order could come sometime this week.
While the current list of countries was taken from an analysis by the Obama Administration, People's Pundit Daily has confirmed that refugees and migrants allowed into America from Bosnia, Somalia, Sudan, Saudi Arabia, Uzbekistan, Kazakhstan, Ghana, Kuwait and Bangladesh were also deemed in 2014 to have been implicated in terrorism.
What of the cap on refugees?
President Trump put a 50,000-per-year cap on refugees allowed into the United States, which cuts the previous cap set by Mr. Obama by more than half. That was not impacted by the court rulings and the U.S. has already taken in more than 35,000 refugees this year.
[social-media-buttons]