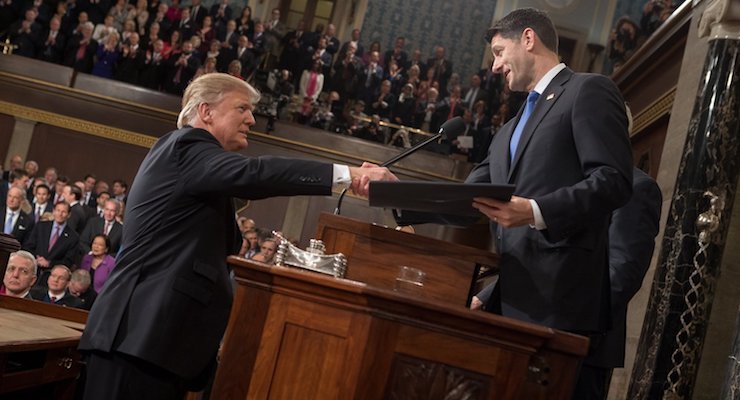 President Donald J. Trump on Thursday signed H.J. Res. 43, overturning Barack Obama's mandate that forced states to fund Planned Parenthood under Title X. The Obama era rule provided family planning grants to Planned Parenthood and other abortion providers.
In a signing ceremony that was closed to the press, Trump signed the resolution permitting states to withhold federal funding from facilities that provide abortions. The President was joined by Centers for Medicare and Medicaid Services (CMS) administrator Seema Verma, Susan B. Anthony President Marjorie Dannenfelser, and Penny Nance, CEO of Concerned Women for America.
"Prioritizing funding away from Planned Parenthood to comprehensive healthcare alternatives is a winning issue," Ms. Dannenfelser said, according to the Washington Examiner. "We expect to see Congress continue its efforts to redirect additional taxpayer funding away from Planned Parenthood through pro-life healthcare reform after the spring break recess."
The Republican-controlled House of Representatives approved H.J. Res. 43, which was introduced by Rep. Diane Black, R-Tenn., back in February. The resolution used the Congressional Review Act (CRA) to rescind the rule enacted during the final days of Mr. Obama's term under the radar.
Sen. Joni Ernst, R-Ia., sponsored the measure in the U.S. Senate and Vice President Mike Pence cast the tie-breaking vote at the end of March after liberal-Republican Sens. Susan Collins of Maine and Lisa Murkowski of Alaska voted against it.
"I think the president's signature today is an important step and it shows that the president is keeping his campaign promises," Administrator Verma said. "This shows that we want states to be in charge of their own decision making."
Planned Parenthood is the largest abortion provider in the U.S., performing at least 300,000 abortions every year. The group received over $542 million in taxpayer dollars during 2011 alone, while performing an astonishing record 333,964 abortions. In that year, Planned Parenthood reported excess revenues exceeding $87 million and net assets of more than $1.2 billion.
According to its 2013-2014 annual report, the industrial abortionist giant received $528.4 million dollars in taxpayer federal funding for the year ending June 30, 2014. During the same year, the organization performed 327,653 abortions, which they repeatedly claimed does not result in the harvest of body parts for sale or other illegal use. In fact, when they were first caught harvesting baby body parts 15 years ago, the organization claimed it was the action of a rogue affiliate, or franchise-like location.
Roughly a dozen states have either attempted to defund or successfully have defunded Planned Parenthood following of the release of videos that appear to show the group harvests the body parts of babies aborted in its clinics to sell for profit. States have proposed reallocating funds to other community healthcare centers, which provide more expansive services than Planned Parenthood.
These women's health clinics outnumber the abortion chain by at least 20 to 1, yet receive fewer funds.
"This is a major pro-life victory. Today, another Congressional Review Act bill undoing harmful Obama regulations becomes law," House Speaker Paul Ryan, R-Wis., said in a statement. "H.J. Res 43 voids a regulation that forces states to use Title X money to fund Planned Parenthood. Taxpayers should not be forced to fund abortion, plain and simple. We remain united and steadfast in our commitment to life and religious liberty."