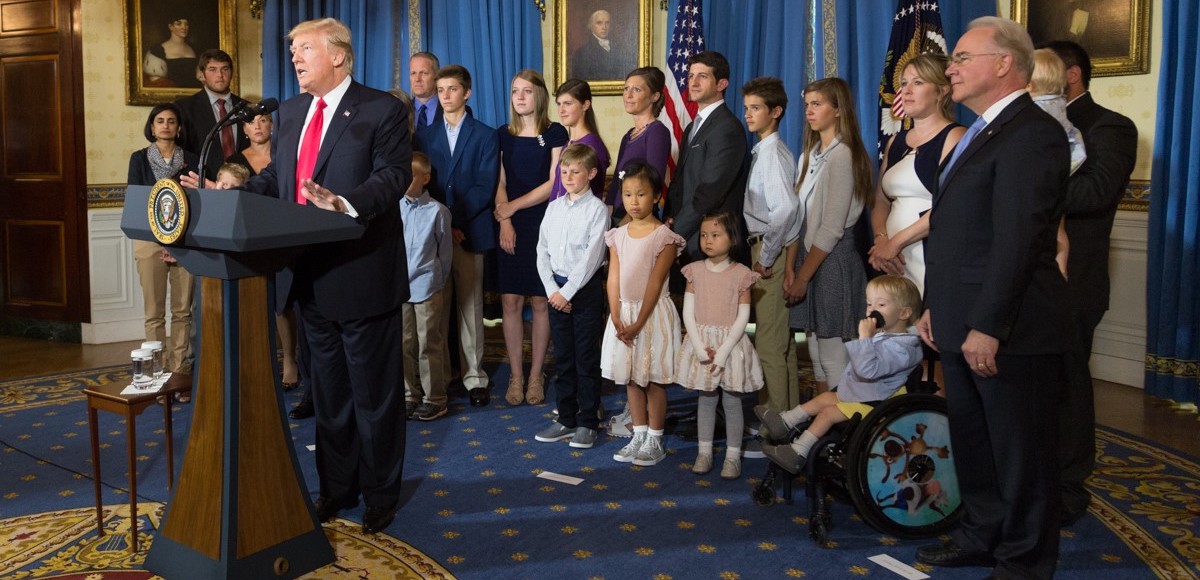 [brid video="154054″ player="2077″ title="President Trump Gives a Statement on Healthcare"]
President Donald J. Trump on Monday not only unleashed a blistering critique of ObamaCare but also the politicians who passed it and promised to repeal it. President Trump's remarks came as he and Vice President Mike Pence met with the "victims" of ObamaCare and their families, assuring them the Administration was committed to repealing and replacing the law.
Flanked by families, he drew on the stories underscoring Americans' struggles under the law and called out Democrats for making one "meaningless promise" after another.
"For the past 7 years, ObamaCare has wreaked havoc on the lives of innocent hard-working Americans," the president said. "Behind me today we have real American families who are suffering because 7 years ago a small group of politicians and special interest engineered a government takeover of health care."
"Every pledge the Democrats made to pass that bill turned out to be a lie."
The Washington politicians who made all those promises," President Trump added, "want to ignore all the pain, all the suffering, and all the money–the tremendous amounts of money–that these lies have caused."
Democratic lawmakers weren't the only ones with a target on their back. He turned up the pressure on Senate Republicans to keep their 7-year campaign promise on the eve of the U.S. Senate's key vote.
"For the last 7 years, Republicans have been united in standing up for ObamaCare's victims. Remember repeal and replace, repeal and replace, they kept saying it over and over again. Every Republican running for office promised immediate relief from this disastrous law," President Trump said. "We, as a party, must fulfill that solemn promise to the voters of this country to repeal and replace."
Vice President Pence visited Capitol Hill Monday afternoon to meet with Senate Majority Leader Mitch McConnell, R-Kty., to discuss the vote this week. Republicans hold a slim 52-48 majority in the upper chamber. With Democrats united in opposition, Republicans can only afford to lose two of their own votes.
"But so far, Senate Republicans have not done their job in ending the Obamacare nightmare. They now have a chance however to hopefully — hopefully — fix what has been so badly broken for such a long time and that is through replacement of a horrible, disaster known as Obamacare," President Trump added.
Liberal Republican Senators Susan Collins (Maine), Shelley Moore Capito (W.Va.) and Lisa Murkowski (Alaska) announced last week they would not support the effort, though 2 out of 3 of them (Capito and Murkowski) voted "Yes" on the exact same bill in 2015, when Republicans voted 52-47 to repeal ObamaCare because they knew it would be vetoed by Barack Obama.
Sen. Collins voted "No" in 2015.
Still, the plan is for the Senate to take a major procedural vote Tuesday afternoon to advance the bill to overhaul health care Tuesday.
"Tomorrow, the Senate will vote on whether to allow this urgently needed bill to come to the Senate floor for debate. The question for every senator, Democrat or Republican, is whether they will side with ObamaCare's architects, which have been so destructive to our country, or with its forgotten victims," President Trump said. "Any senator who votes against starting debate is telling America that you are fine with the ObamaCare nightmare."