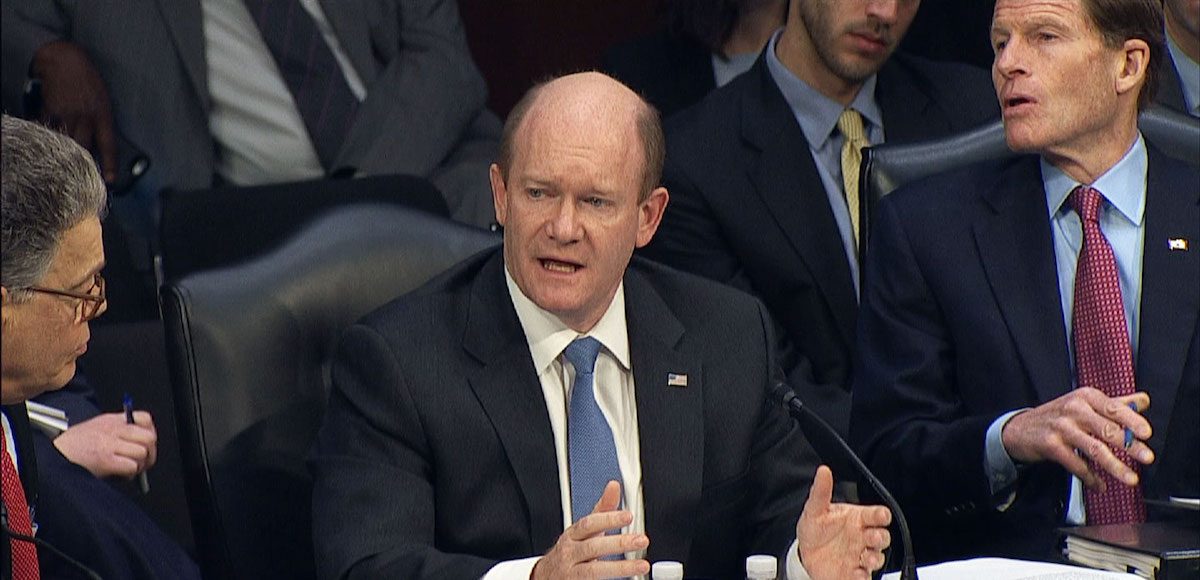 Senate Democrats used a parliamentary rule Wednesday to cut short a hearing before a witness with new information could give damning testimony against Fusion GPS. Bill Browder, the CEO and co-founder of Hermitage Capital, was set to testify before the Senate Judiciary Committee about the shadowy firm being hired to conduct "smear campaigns."
Funded by Democrats, Fusion GPS hired former British intelligence agent Christopher Steele to gather opposition research against then-Republican presidential candidate Donald J. Trump. The result was the Kremlin-sourced discredited Trump dossier, which Democrats widely circulated knowing it contained discredited information.
Mr. Bowder was going to testify on Russia's misdeeds and also raise fresh allegations against Fusion GPS. He was also going to testify that the smear campaign was orchestrated by Natalia Veselnitskaya–the Russian attorney who sought a meeting at Trump Tower with Donald Trump Jr., his brother-in-law Jared Kushner and then-presidential campaign manager Paul Manafort.
Mr. Steele almost exclusively used sources linked to the Kremlin and Russian President Vladimir Putin. As The Washington Times reported, he has identified his sources in the dossier as "a senior Russian Foreign Ministry figure," a former "top level Russian intelligence officer active inside the Kremlin," a "senior Kremlin official" and a "senior Russian government official."
Mr. Browder released written testimony ahead of the hearing. However, his public testimony was shut down when Democrats took the unprecedented step of invoking a "two-hour rule" masked as a protest to repeal ObamaCare. The seldom-used rule bars committees from meeting more than two hours after the full Senate begins a session.
He is now expected to testify Thursday against Fusion GPS, an intel company founded by two former Wall Street Journal reporters, including Glenn Simpson.
"Veselnitskaya, through Baker Hostetler, hired Glenn Simpson of the firm Fusion GPS to conduct a smear campaign against me and Sergei Magnitsky in advance of congressional hearings on the Global Magnitsy Act," Mr. Browder wrote.
He also stated in his prepared testimony that Fusion GPS helped to organize a Washington D.C.-based premiere of a "fake documentary" about Mr. Magnitsky and himself.
"While they were conducting these operations in Washington D.C., at no time did they indicate that they were acting on behalf of Russian government interests, nor did they file disclosures under the Foreign Agent Registration Act (FARA)."
"This was one of the best examples of Putin's propaganda."
Sen. Chuck Grassley, R-Ia., the Chairman of the Senate Judiciary Committee, has been asking about the connection between Democrats, the Russians and Fusion GPS since March 2017. He also pressed James Comey, the fired former director of the Federal Bureau of Investigation (FBI), what role the fake dossier had in his investigation against Trump associates and Russian meddling.
"Mr. Simpson's company, Fusion GPS, is the same firm that oversaw the creation of the unverified Trump Dossier," Chairman Grassley said in his opening statement. "It is vital for the Committee to fully understand Fusion's failure to register under FARA and its role in the creating and spreading of the dossier."
He noted Fusion GPS helped to "orchestrate a propaganda campaign" to repeal the Magnitsky Act.
"There are public reports that the FBI used the dossier to kickstart its Russia investigation—Did the FBI know that Fusion pitched Russian propaganda for another client as it pushed the Trump dossier?" he asked.
Before being cut short by the Democrat's parliamentary trick, Chairman Grassley questioned Ms. Veselnitskaya's intentions behind her seeking a meeting with Don Jr. at Trump Tower.
"Was it just a clumsy bait-and-switch effort in their unregistered propaganda and influence campaign? They offered dirt on the opponent to get the meeting and then made their pitch against the Magnitsky Act?" he asked. "Or was it an offer of collusion? Or maybe both?"
Ms. Veselnitskaya was also tied to Fusion GPS when the chairman disclosed last month that they were players in the case involving Prevezon Holdings, a company run by Russian businessman Denis Katsyv.
Mr. Katsyv retained Ms. Veselnitskaya after he became the target of the U.S. Department of Justice in a civil asset forfeiture case. The Justice Department alleged Prevezon benefited from a money-laundering scheme in Russia that was uncovered in 2008 by Mr. Magnitsky, a Russian attorney and auditor who was tortured and murdered.
In response, the U.S. Congress passed into law the Magnitsky Act, which Trump Jr. claims Ms. Veselnitskaya made the topic of their conversation during the meeting in June 2016. According to WikiLeaks cables, Hillary Clinton was opposed to the Magnitsky Act.
On May 25, 2015, Clinton campaign staffer Jesse Lehrich wrote the following to the campaign's rapid response group.
"With the help of the research team, we killed a Bloomberg story trying to link HRC's opposition to the Magnitsky bill to a $500,000 speech that WJC gave in Moscow."
WJC is William Jefferson Clinton, otherwise known as former President Bill Clinton. According to Mrs. Clinton's ethics disclosure form filed while she was serving as secretary of state, Mr. Clinton was paid $500,000 by the Russia-based finance company Renaissance Capital for a speech he made in Moscow on June 29, 2010. Russian President Vladimir Putin himself called him to express his gratitude for it.