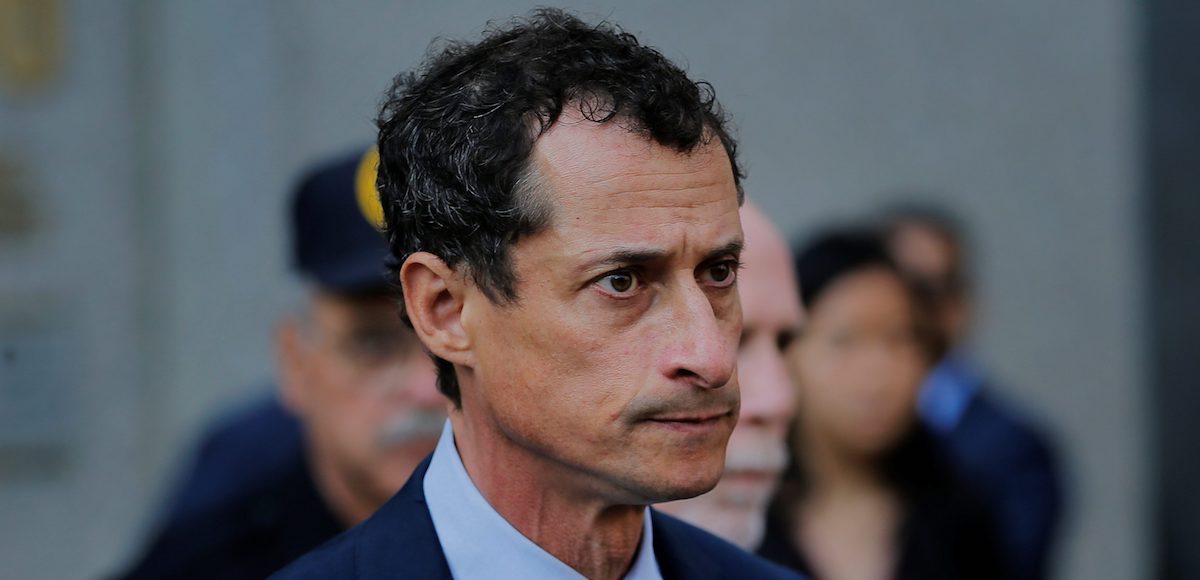 Former U.S. Congressman Anthony Weiner has been sentenced to 21 months in prison by a New York federal judge for sending obscene messages to a 15-year-old minor in 2016. The disgraced former lawmaker was a Clinton ally and is the husband of Huma Abedin, longtime aide to Hillary Clinton.
Standing in the federal courthouse in New York City, Weiner, 53, sobbed through his statement to the court. He bowed his head, put his face in his hand and sobbed as the judge imposed the sentence. He was also ordered to pay a $10,000 fine but no restitution, though the teenage victim requested it from the court.
"This was a serious crime. It's a serious crime that deserves serious punishment," Judge Denise Cote said as the convicted sext fiend wept in shame.
When the courtroom had cleared, Weiner sat crying in his chair while his lawyers consoled him by patting him on the back. His mother, sitting next to his father and brother Jason, also sat crying on the bench behind him.
Abedin, the serial sexter's soon-to-be ex-wife, was nowhere to be seen.
The Federal Bureau of Investigation (FBI) seized his electronic devices and found more documents on his laptop sent to and from Hillary Clinton and Wiener's wife, which were classified. In truth, the sentence was relatively light considering a conviction of the crime carried up to 10 years in prison.
Federal prosecutors demonstrated the former congressman from Brooklyn began a 2-month long sexting relationship with the teen from North Carolina shortly after she messaged him on Twitter in January 2016. He argued that he was addicted to a sick obsession with sexting strangers — as opposed to an obsession with underage girls — but is now in recovery.
"If I fail, I know what will happen," Weiner said. "But with God's grace, I will not."
He made a plea for probation, claiming he wanted to continue his treatment that includes sessions with Sex Addicts Anonymous. But prosecutors demanded prison time, citing his most recent sexting relationship with a minor that began on the evening of January 23, 2016. A high school student messaged him on Twitter, to which he responded with a flurry of "provocative" messages despite knowing the teen was in high school.
Weiner must surrender himself to prison by November 6, 2017. His lawyer put in a request for Schuylkill Federal Correctional Facility in Pennsylvania, or another low-security prison near New York.