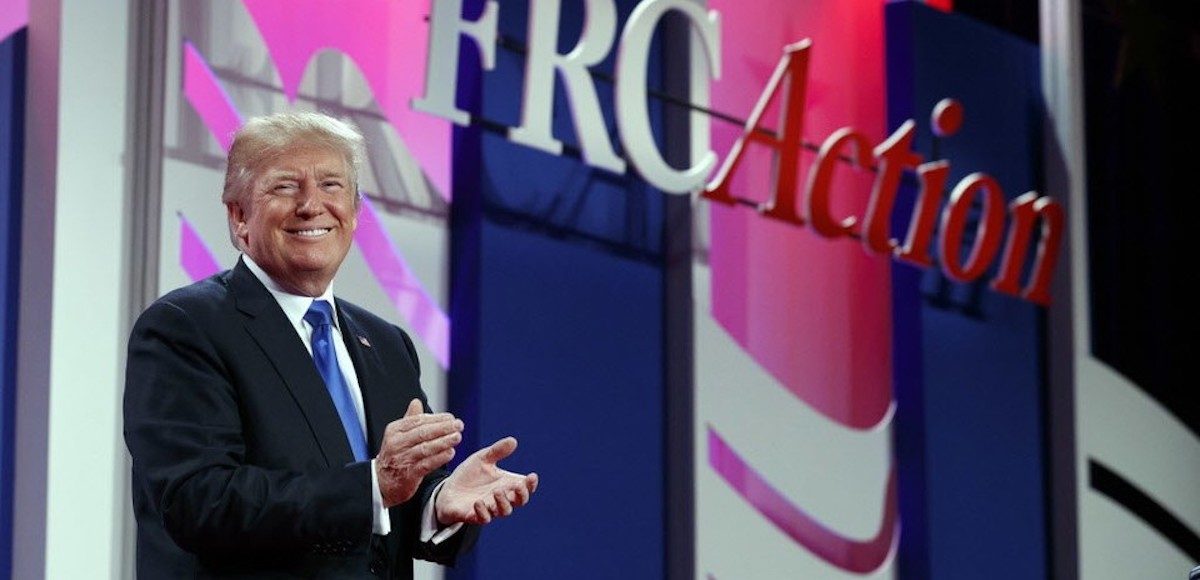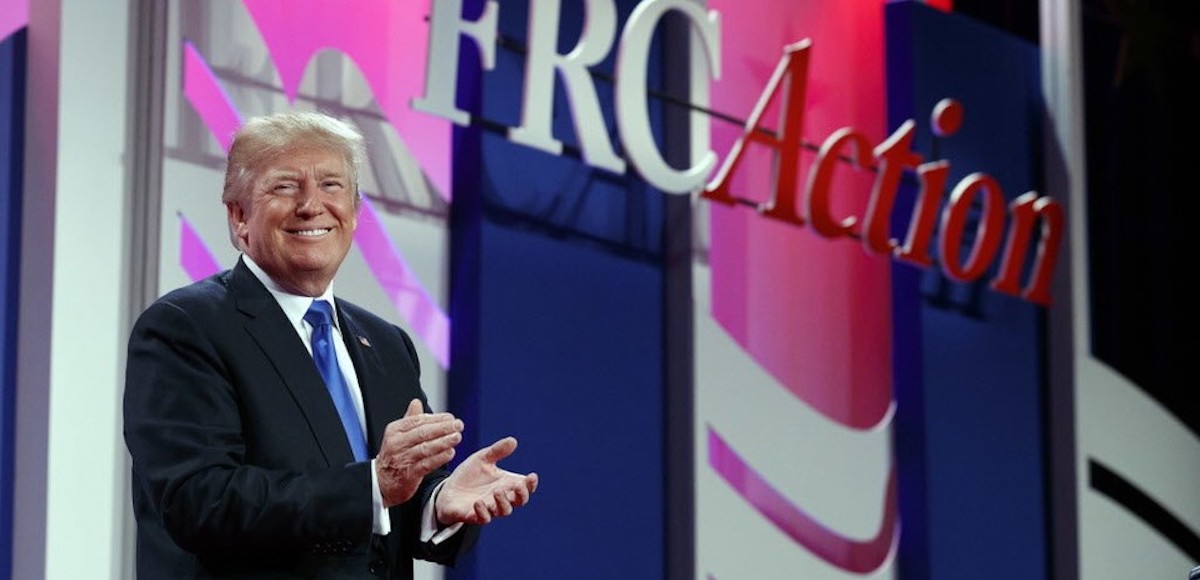 President Donald Trump said in his remarks to the 2017 Values Voter Summit on Friday that "we are renewing the America we love," one that worships God, not government. The speech was a declaration to Americans of faith that his administration marks the end of an era that saw a government-backed attack on their values.
"We will not allow government workers to censor sermons or target our pastors, our ministers, our rabbis," President Trump, who became the first sitting President to give remarks at the event, said. "We are stopping cold the attacks on Judeo-Christian values."
He heralded the executive order that puts an end to the targeting of religious groups for their beliefs, specifically referring to "the hell" the Little Sisters of the Poor and others went through under Barack Obama.
"We defend our Constitution. We protect religious liberty," he stated. "Religious liberty is enshrined in the very First Amendment of the Bill of Rights."
The Little Sisters of the Poor in a nonprofit religious group of Catholic nuns that sued the previous administration over the ObamaCare contraceptive mandate.
Citing George Washington, he stated "religion and morality are indispensable" supports to our Republic, which he called a "nation of believers" who "together are strengthened and sustained by the power of prayer." He said the strength of the nation is in the human connection made in our communities.
"We love our families. We love our neighbors. We love our country," he said. "We are proud of our history. We support the rule of law and the incredible men and women of law enforcement."
Values voters were a key voting bloc in the coalition that propelled President Trump to an overwhelming electoral victory over Hillary Clinton in 2016. These and millions of other voters went heavy for the "working-class billionaire," whom they saw as someone who would push back against an assault on their values and way of life.
The President received a roaring approval and a standing ovation from the crowd when he mentioned the War on Christmas. Even before he announced his bid for the White House, Mr. Trump lamented how department stores and others have been bullied by political correctness.
"Well guess what?" he said. "We're saying Merry Christmas again!"
The New York businessman received the largest share of the evangelical vote of any presidential candidate in history, clobbering Mrs. Clinton 81% to 16%. That margin played a key role in Iowa and Wisconsin, the latter not having been carried by a Republican since 1984.
Evangelicals also gave George W. Bush a slight 2-point win over John Kerry in Iowa back in 2004, while President Trump cruised to a 10-point victory in 2016.
"It is our faith and our values that inspires us to give with charity, to act with courage, and to sacrifice for what we know is right," he told those in attendance. "We are renewing the America we love."
President Trump, who received one standing ovation after another during his speech, vowed to restore "moral clarity" to the nation's view of the world. He told values voters at the event that enemies fear the United States because the American people never give up. They fear the power of hope.
"Our people never lose faith, never give in, and always hope for a better tomorrow," he said. "The people who grace our lives are the true strength of our nation."
President Trump also carried voters who identified as Protestant or other Christian by 58% to 39%, while taking the Catholic vote 52% to 45%. The latter was a change from the previous two elections, when lopsided margins among Hispanic Catholics gave Barack Obama the edge over John McCain and Mitt Romney among Catholics.
"Bureaucrats think they can run your lives, overrule your values and tell you how to think," President Trump added. "We know that parents, not bureaucrats, know best how to raise their children."
"In America, we don't worship government. We worship God."
White-only Catholics voted for Mitt Romney by a slight margin, while President Trump won them overwhelmingly. It helped fuel his upset victories in key states like Pennsylvania, Michigan and Wisconsin.
The President ended the historical address with a call for unity and praise for the resilience and goodness of the American people. He said of the Las Vegas shooting and other tragedies that Americans defy "evil and hatred with courage and love."
"The light shines in the darkness and the darkness has not overcome it. We are one nation and we all hurt together, we hope together, and we heal together," he said. "When America is unified, no force on Earth can break us apart."