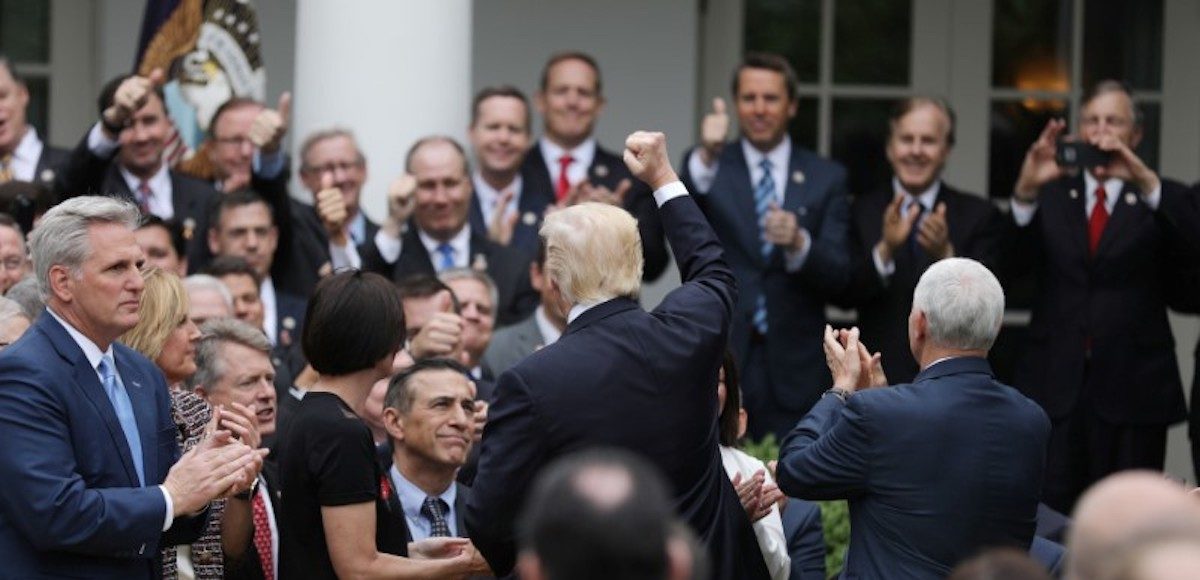 President Donald Trump and Republicans gathered at the White House on Wednesday to celebrate the historic passage of the Tax Cuts and Jobs Act. The passage of the president's signature tax reform bill is the first overhaul to the U.S. tax code in more than 31 years and the first major legislative achievement of the Trump Administration.
"We broke every record … It's the largest tax cut in the history of our country," President Trump said during a speech on the South Lawn of the White House, surrounded by Republican lawmakers. "This is going to mean companies are going to be coming back. I campaigned on the fact that we're not going to lose our companies anymore."
"They have tremendous enthusiasm right now in this country and we have companies pouring back into our country."
Indeed, within hours of final passage, U.S. businesses began announcing wage increases, bonuses and investments. The bill will slash the corporate tax rate from the highest in the developed world (35%) to just 21%, a policy data show does boost wages.
AT&T was first to announce it would pay bonuses of $1,000 to more than 200,000 U.S. employees in response to tax reform. The telecommunications giant previously said it would invest $1 billion in the U.S. if "competitive" tax reform was passed, and that the Tax Cuts and Jobs Act would increase demand for their services.
Fifth Third Bancorp (NASDAQ: FITB) based in Cincinnati, Ohio, followed up with an announcement that it will pay more than 13,500 employees a bonus and raise the minimum wage for its workforce to $15 after the passage of the president's signature tax cut and reform plan.
One of the more emotional moments came when President Trump asked Senator Orrin Hatch, R-Utah, to say a few words at the podium.
"Mr. President, I have to say. You are living up to everything I had hoped you'd be. You're one heck of a leader," he said to a loud applause. "I came from humble origins. This is one of the great honors of my life to stand up here with you. God loves this country, and we all know it. We all love you (the people) and we're going to make this the greatest presidency ever."
House Speaker Paul Ryan, R-Wis., also credited President Trump's "exquisite presidential leadership" for the eventual passage of the bill through Congress. The House passed the tax reform bill Tuesday afternoon, but had to re-vote on Wednesday morning after a few provisions were found to be in violation of a parliamentary rule. Democrats stripped the expansion of popular 529 college savings plans from the bill in a throw to teacher unions.
"Mr. President, thank you for getting us over the finish line," Speaker Ryan said. "Something this big could not have been done without exquisite presidential leadership."
But when he retook the podium, President Trump tossed due credit to the Republican lawmakers in the upper and lower chambers, many of whom have worked toward this goal for decades.
"This was the culmination of a few months work," he said. "But they've been working on this for years."