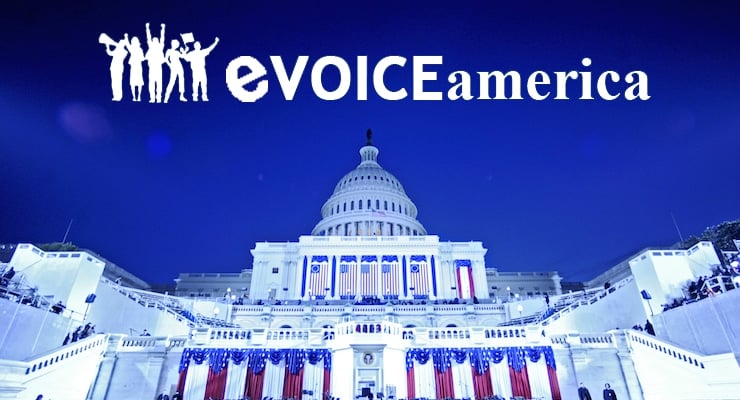 According to recent data from the People's Pundit Daily Tracking Poll, when asked "How often does the federal government do what most Americans want it to do?" more than 8 in 10 (83%) said either "once in a while" (63%) or "never" (20%). When asked "How much does the national government care about what people like you think?" a slightly larger percentage (85%) either said "a little" (32%) or "not at all" (55%).
Does your senator and representative in Washington D.C. know how you feel and, if so, do they even care? Most Americans aren't optimistic about the answers to these questions. But that doesn't have to be the case, anymore.
What if you could make them care? What if they had no choice but to care how you and your fellow Americans feel?
That's exactly what eVoiceAmerica, an internet take-action site is trying to do. For the first time ever, using a new patented technology, Americans can easily convey their personal opinions in real-time to their elected D.C. representatives. With opinions potentially numbering in the tens of millions, big media and lawmakers in Washington, D.C. will have no choice but to pay attention.
"We no longer have to rely on hallow Washington promises of transparency," Dee Boyack Jeffries, co-inventor and co-founder of eVoiceAmerica.com. "eVoice provides that transparency."
eVoiceAmerica collects issue-based, "Yes/No" percentage data available on the site and compiles and emails it as daily data reports to D.C. lawmakers. Users, who can access their personalized, recurring list of D.C. elected reps each time they logon, can email any number of personal opinions to one or all of their elected lawmakers' official government inboxes.
If a user, representatives vote against their constituent majorities, they will know it because the data is made available in real-time. They will know that they must vote responsibly and responsively or be voted out.
Ms. Jeffries and her twin sister Sandra Boyack Brazier, the other co-inventor and co-founder of eVoiceAmerica.com, are ready to unveil a new monthly report that individuals and news organizations can purchase to learn exactly what the representatives have received for that particular month relating to feedback.
"eVoiceAmerica.com harvests all anonymous user, issue-based, Yes/No eVotes; text opinions; Congressional recipients; and voluntary demographic information in its unlimited, relational database which allows for ongoing, historical, issue-tracking capabilities and data analysis for access by reps and organizations," Brazier said.
Cause-based groups, journalists and bloggers can all know, in real time and over time, what millions of Americans are telling their representatives on all the key issues. eVoiceAmerica offers customized take action tools to all organizations that want to 1) mobilize their visitors to speak out, 2) influence outcomes, and 3) generate critical issue-based data on their selected issues and presidential candidates. eVoiceAmerica is non-partisan which will reflect the values and positions of the majority of American people.