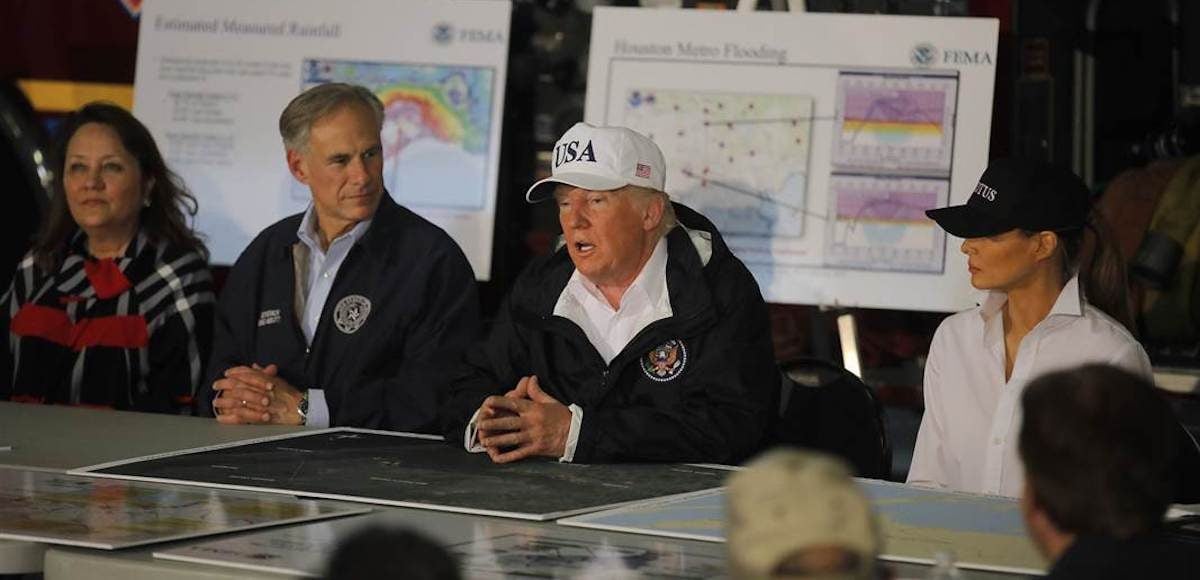 Editor's Note: A big but underrated part of a president's job is to comfort the nation in times of crisis and disaster, to provide them with hope and a sense that someone cares about them during their time of need. President Donald Trump faced his first big test along these lines on Tuesday when he visited the victims of Hurricane Harvey in Corpus Christi, Texas. He did his job and he did it well.
President Donald Trump traveled to Corpus Christi, Texas on Tuesday to meet with Gov. Greg Abbott and discuss the state's efforts to rescue the victims of Hurricane Harvey. He received a warm welcome from hundreds of Texans who lined the streets.
People shouted chants of "We Love Trump!" "USA!," "Texas for Trump!" and "Texas Strong!"
He met with Gov. Abbott and FEMA Administrator Brock Long for a storm briefing that took place at the Annaville Fire Department. Outside, following the meeting, President Trump tried to lift spirits as he waved a Texas flag to cheering supporters.
"We are here to take care of you," President Trump told the crowd while standing between two fire trucks. "We're going to get you back and operating immediately,"
"It's historic, it's epic," President Trump said outside the firehouse as he waved the flag.. "But I tell you it happened in Texas and Texas can handle anything!"
Several Cabinet members joined the President on the trip, including Secretary of Health and Human Services Tom Price, acting Department of Homeland Security Secretary Elaine Duke, Housing and Urban Development Secretary Ben Carson and Small Business Administrator Linda McMahon.
On Monday, HHS ensured thousands of Texans sheltering at the George R. Brown Convention Center in Houston had medical care on-site through a 250-bed Federal Medical Station after it was requested by the State Department of Health. The Federal Medical Station is scheduled to be operational Wednesday.
"We are committed to supporting state and local agencies in meeting the healthcare needs emerging from this devastating storm," Secretary Price said. "The Federal Medical Station we are setting up and staffing in Houston will provide vital care to Texans affected by Hurricane Harvey, and we stand ready to devote additional resources as needed."
HHS also is helping evacuate hospital patients to healthcare facilities outside the impacted area.