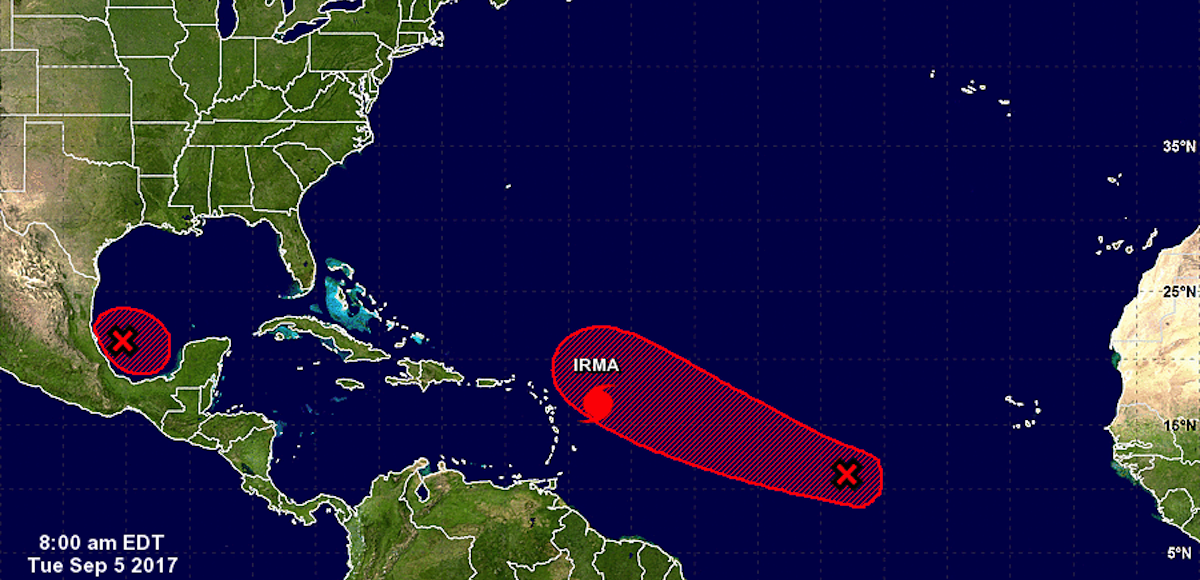 Hurricane Irma has strengthened to a Category 5 with maximum sustained winds up to 175 MPH or more, expected to hit Florida by the end of the week. Gov. Rick Scott has declared a state of emergency for the entire state, telling residents to prepare early and for the worst.
UPDATE: Maximum sustained winds have increased to 180 MPH, the National Hurricane Center said in its 11:00 a.m. ET advisory.
"Hurricane Irma is a major and life-threatening storm and Florida must be prepared," Gov. Scott said in a statement. "I have continued to be briefed by the Florida Division of Emergency Management on Hurricane Irma and current forecast models have Florida in Irma's path – potentially impacting millions of Floridians."
The National Hurricane Center said in its 8 a.m. ET advisory that Hurricane Irma was roughly 320 miles east of the Leeward Islands and moving west at 14 mph. It will move near or over portions of the northern Leeward Islands Tuesday night and early Wednesday morning.
The Miami-based forecaster said Hurricane Irma is expected to drop a total 4 to 8 inches of rain with isolated maximum amounts of 12 inches across the northern Leeward Islands, the British and U.S. Virgin Islands, and Puerto Rico. These rainfall amounts may cause life-threatening flash floods and mudslides.
"This is not an opportunity to go outside and try to have fun with a hurricane," U.S. Virgin Islands Gov. Kenneth Mapp warned. "It's not time to get on a surfboard."
Hurricane warnings were issued for 12 island groups in the Caribbean.
"In Florida, we know that the best way to protect our families in severe weather is to have a plan," Gov. Scott added. "I urge all Floridians to remain vigilant and stay alert to local weather and news and visit FLGetAPlan.com today as we all prepare for Hurricane Irma. We will keep monitoring and issuing updates on Hurricane Irma as it approaches Florida."
While some fluctuations in intensity are likely during the next day or two, Hurricane Irma is forecast to remain a Category 4 or 5 during the next couple of days.