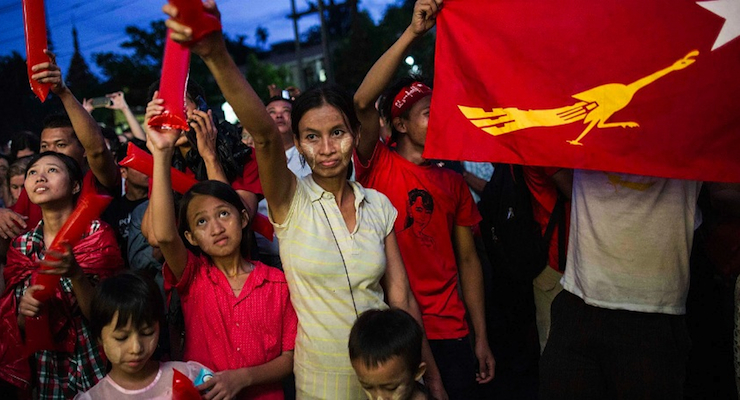 The leading opposition party in Myanmar is claiming it won a landslide victory over the ruling party in the country's first free elections in 25 years. "Time to Change" is the NLD's campaign slogan, and many of the 32 million Burmese eligible to vote apparently agreed.
"Nationwide we got over 70 percent," said U Win Htein, a senior member of the National League for Democracy (NLD). "We can call this a landslide victory." Because one quarter of parliamentary seats are reserved for the military, the NLD would need to win at least two thirds of the contested seats to win a majority.
The military-backed Union Solidarity Development Party (USDP), which has been in power since 2011 and negotiated with then-Secretary of State Hillary Clinton, who is now the Democratic Party frontrunner, was willing to accept what is looking more and more like a serious defeat.
"We have to find out the reason why we lost," said U Htay Oo, the chairman of the ruling party. "However, we do accept the results without any reservations. We still don't know the final results for sure."
However, even if the NLD does win a majority, which grants the party the authority to appoint the president, its longtime leader Aung San Suu Kyi is constitutionally barred from holding the position. Suu Kyi is often referred to as "Mother" by supporters, but the party would likely nominate someone else, and according to Foreign Policy, she has said that she would be "above the president."