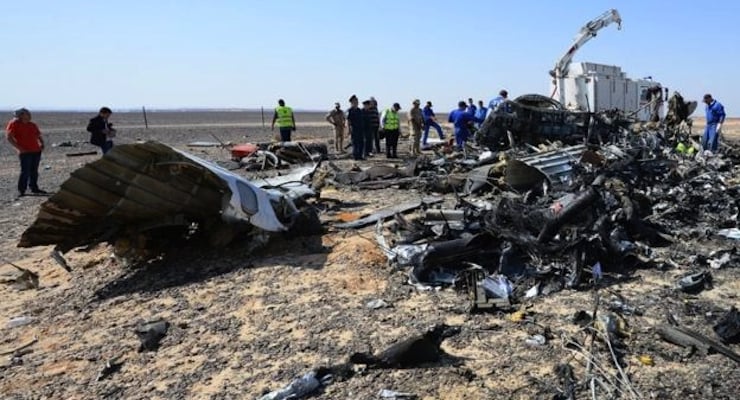 The U.S. Embassy in Egypt has instructed its staffers not to travel anywhere in the Sinai Peninsula following Saturday's crash of a Russian airliner that killed all 224 people on board. The move comes just one day after officials, including U.S. officials, disputed claims made by the Islamic State that the group "brought down" Metrojet Airbus A321-200.
James Clapper, the director of national intelligence, said there was no "direct evidence of any terrorist involvement yet" that ISIS was responsible for the tragedy. Metrojet Airbus A321-200 was en route from Sharm el-Sheikh to St. Petersburg when it went down over the northern Sinai Peninsula approximately 23 minutes after takeoff. The overwhelming majority of the passengers were Russians on holiday flying home.
"It's unlikely," Clapper said. "But I wouldn't rule it out."
In a statement released Tuesday, the U.S. Embassy in Egypt said that the travel ban was in place as a precautionary measure pending the outcome of the investigation into the crash.
Egyptian President Abdul Fattah al-Sisi said ISIS' claims to have "brought down" the Russian airliner is simply "propaganda" meant "to damage the stability and security of Egypt and the image of Egypt."
"Believe me, the situation in Sinai — especially in this limited area — is under our full control."
Though the cause of the crash, which killed all 224 people on board, has yet to be determined, the Islamic State's claim was widely disputed immediately. Of course, the crash threatens to deliver another blow to the pro-West country's already struggling tourist economy. Speculation was fueled further by the airline's statement that the crash was likely caused by "an external impact on the plane."
"We absolutely exclude the technical failure of the plane, and we absolutely exclude pilot error or a human factor," Aleksandr Smirnov, Metrojet's deputy director for aviation said at a press conference in Moscow on Monday. Smirnov also said that a total of 140 bodies and more than 100 body parts were delivered to St. Petersburg on two government planes on Monday and Tuesday, adding that a third plane is scheduled to bring more human remains later on Tuesday.
However, the head of Russia's federal Air Transportation Agency said that these claims "were not based on real facts." Yet, late Monday a senior U.S. defense official confirmed that American satellites detected a heat flash where the plane went down, which indicated a possible explosion either from a bomb or a fuel tank. Though they have ruled out the presence of a surface to air missile, the bending of the metal suggests an internal explosion.