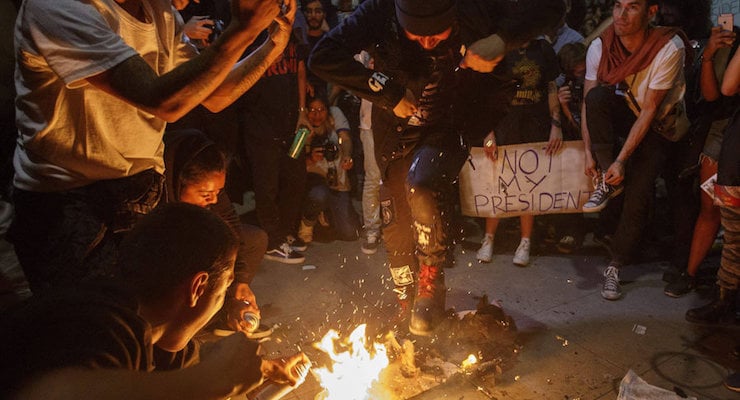 The presidential election is over. Here we are now, at a time to reflect on what is going on with and in our nation. We have people rioting in the streets, destroying businesses, burning the American flag, and creating pain for those who have not wronged them in any way.
The people destroying their cities are doing so in the very neighborhoods in which they live. Sure, there are paid-for outside professional protestors and remnants of Hillary Clinton's birddogging campaign against President-Elect Donald J. Trump, but should they be expected to respect the rights and properties of others less simply because they do not live in their communities?
These rioters and "protestors" are not doing so for political expression, but rather using it as an excuse to commit crimes, and get away with it. These rebellious children, many of whom are deeply disturbed and have no direction, are just hiding under the guise of political expression.
A true protester holds a sign and chants their grievance, but they typically avoid disrupting the life of everyday people. By all means, if you disagree with the legitimate outcome of our political process, then express it in a non-violent way. For the protestors, the only thing they are on track to accomplish with these violent acts is self-destruction.
The public, which already sided with the Law and Order candidate, will not soon be persuaded against him by these tactics. For the Democratic Party, these "protestors" are the fruits of their labor, a result that further threatens to weaken their electoral coalition. Put simply, no one is going to vote for a party that produces and represents anarchists.
"We are going to have this kind of vigorous protest. My hope is that it would be non-violent," the late great Dr. Martin Luther King Jr., said. "I would hope that we can avoid riots because riots are self defeating and socially destructive."
It is time for these adult-aged protestors to start acting like adults, which insinuates they are fully grown and developed mentally and physically. I do not see adults. I see babies that are easily manipulated for $15 an hour. The violence needs to stop.
In the United States Of America, we have a political process for electing a president every 4 years. When Barack Obama was elected and reelected, there were no violent protestors or chants of "Not My President" in the streets. There were no attempts to overshadow a day we as a nation honor the sacrifice of others by babies with temper tantrums who never sacrificed anything.
It is time to reflect. President-Elect Donald J. Trump will be the next President of the United States and that means he'll be the president for all Americans. Mr. Obama legitimately got his chance, not we all must give Mr. Trump his legitimate chance.