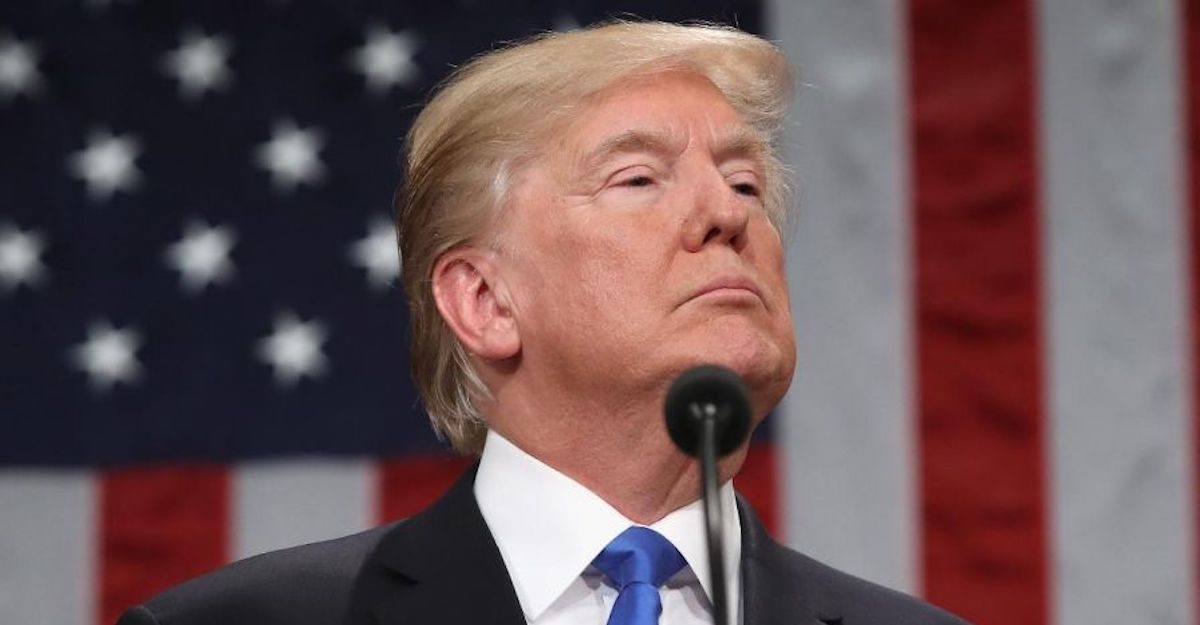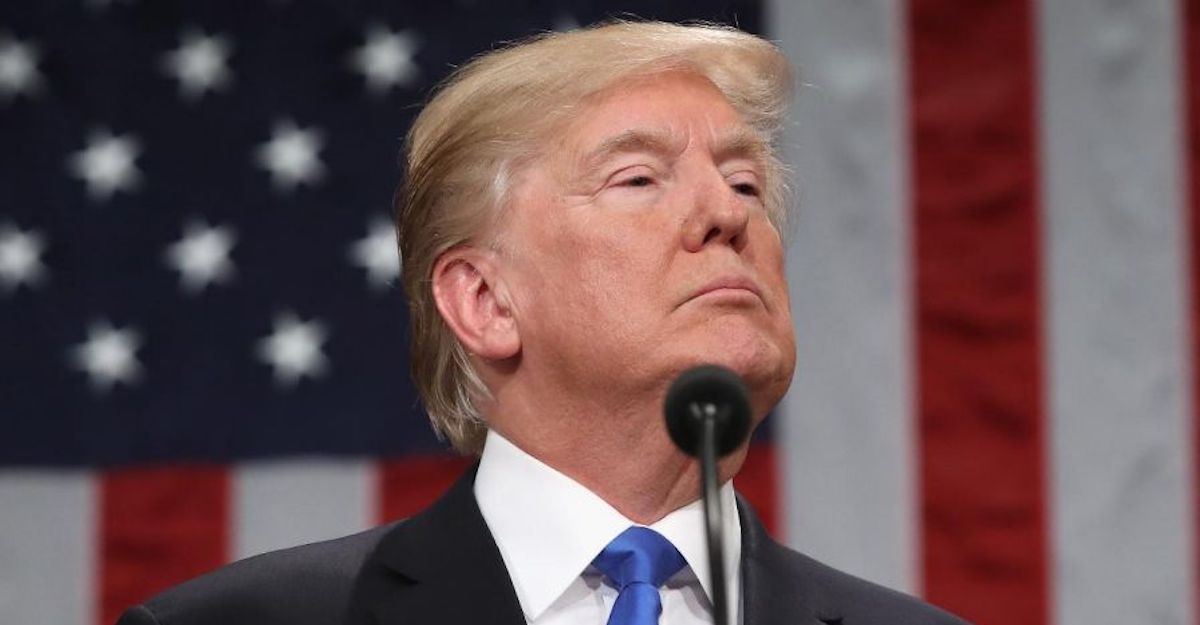 President Donald Trump delivered his first State of the Union address Tuesday evening and, without a doubt, he absolutely knocked it out of the park. Democrats, who chose to collectively protest by sitting on their hands and occasionally boo in disapproval, will rue their decision.
A CBS News/YouGov Poll of the audience found a whopping 75% approved of the president's address, including 97% of Republicans, 43% of Democrats and 72% of independents. More than 8 in 10 (81%) think the president was trying to unite the country, not divide it.
More than 9 in 10 (91%) favored the infrastructure proposal, 75% favored what he said on national security and 72% favored what they heard on immigration.
Here's why.
It was relatable yet shockingly disciplined.
The former New York businessman has a tendency to give a speech like a former New York businessman. He shows up with prepared remarks, but after a few deliveries he begins to improvise. While the American people often find that relatable and refreshing, the State of the Union address is not the proper venue for ad libitum.
He kept that to a minimum and the few times he did ad lib, it still fit well with the speech and sounded rather natural. For a speech that will go down as the third longest in history, the businessman-turned-president was extraordinary disciplined.
It was optimistic yet realistic.
Barack Obama was a great orator. Few possess the talent of reading off a screen as he. Mr. Obama had a habit of pretending like things were going smoothly when they were not. All presidents gloat during the State of the Union address, but he repeatedly went overboard.
He did the exact opposite of what President Trump did Tuesday night during his address, which is to minimize people's problems and our collective challenges as a nation. President Trump struck the right balance.
He kicked off the speech calling for unity and by reminding politicians "we were elected to serve" the people.
While he mentioned the historic fact that unemployment for blacks and Hispanics are at all-time lows, he wasn't dismissive of their situation. Democrats, to include the Congressional Black Caucus (CBC), sat on their hands stone-faced.
It was a low, classless moment for them and indicative of why the president's support among black and Hispanic Americans has doubled since election day.
He told "all Americans" that there "has never been a better time to start living the American Dream." It was a moment I found comparable to an inspiration speech by a college football coach telling his team to go out and get their glory.
"No matter where you have been, or where you come from, this is your time," he said. "If you work hard, if you believe in yourself, if you believe in America, then you can dream anything, you can be anything, and together, we can achieve absolutely anything."
It was strong yet warm.
On immigration, the central issue at the current time, one line stands alone: "My duty, and the sacred duty of every elected official in this chamber, is to defend Americans… because Americans are dreamers too."
Two of the most powerful moments of the night came during his remarks on North Korea, an issue on which his critics often border hysteria.
President Trump honored the parents of Otto Warmbier, the 22-year-old U.S. student imprisoned in North Korea. Though the Trump Administration was able to secure his release, he ultimately perished as a result of the brutal treatment he received at the hands of the leftist communist regime.
"Otto Warmbier was a hardworking student at the University of Virginia, and a great student he was," he said. "Tonight, we pledge to honor Otto's memory with total American resolve."
He honored defector Ji Seong-ho, who some 20 years ago was a starving boy in North Korea. His limbs were run over by a train after he collapsed in exhaustion on the tracks before enduring torture at the hands of North Korean authorities.
"Seong-ho traveled thousands of miles on crutches all across China and Southeast Asia to freedom," President Trump said. "Most of his family followed. His father was caught trying to escape, and was tortured to death."
The scene of Ji Seong-ho raising his crutches in defiance of the regime toward President Trump was a truly amazing moment. Along with the image of a still-grieving Warmbier family, it made those who criticize the president's handling of Pyongyang look small and petty.
President Trump ended the address in much the same way he began it, by reminding politicians who is the true sovereign in this country and that it is their job to respect the sovereign, not rule them.
"But above all else, they are Americans. And this Capitol, this city and this Nation, belongs entirely to them," he said. "The people dreamed this country. The people built this country and it is the people who are making America great again."
It was an appropriate ending to President Trump's first State of the Union address. That line not only represents why Donald Trump won the presidency but also why the political class hates him so much.
I have little doubt that the president's approval and favorability numbers will improve in the aftermath of the address. The only question is by how much and for how long.