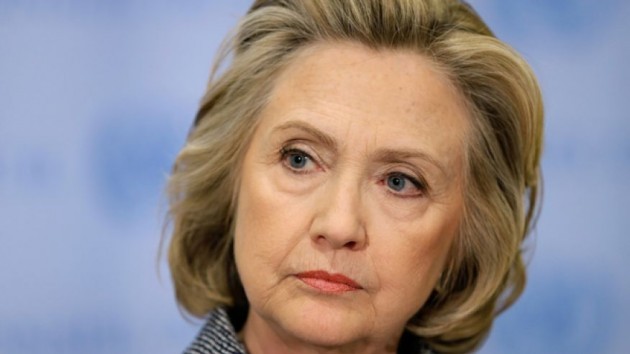 The email controversy surrounding former Secretary of State Hillary Clinton has taken a significant toll on the once-presumptive 2016 Democratic nominee. Perhaps, in reality, it is far more fair of an assessment to say that Clinton's reaction to the controversy is behind the shift in public opinion, a shift that is beginning to terrify national Democrats.
First, let's take a look at the data from two new polls, then recap the events that are behind her precipitating numbers. The biggest concern Democrats should have is that — although her numbers have fallen across-the-board — Democrats are still willing to nominate a candidate that could find the general election waters chilly, indeed.
In their first survey since the email controversy, Rasmussen Reports found 48 percent of all likely voters have a favorable opinion of Hillary Clinton, while 49 percent view her unfavorably. While Rasmussen doesn't score particularly high on PPD's Pollster Scorecard, they routinely track the former first lady's favorable numbers, and have never found her underwater. Her current favorable numbers are down from September, when 53 percent viewed Clinton favorably to 45 percent who viewed her unfavorably, and down significantly from 61 percent in December 2012.
Speaking to voter turnout, the intensity index is also against Clinton, with those numbers including only 21 percent with a "very favorable" view and 33 percent with a "very unfavorable" one. Worse still, 56 percent of all nonaffiliated voters view Clinton unfavorably, including 34 percent with a "very unfavorable" view.
There are real concerns within Democratic circles that extraordinary minority turnout may have been an Obama phenomena, and with only 65 percent of blacks and 56 percent of other minority voters having a favorable view of Hillary, those fears seem valid. A majority of whites — 54 percent — already hold an unfavorable opinion of her.
Say what you will about Rasmussen, but they are not alone.
Support for Clinton's candidacy has plunged 15 percentage points since mid-February among Democrats, with as few as 45 percent saying they would support her in the latest Reuters/Ipsos tracking poll. Nearly half of Democratic respondents – 46 percent – said there should be an independent review of all of Clinton's emails, with 41 percent saying they backed Republicans' efforts to force Clinton to testify.
Both polls also show Clinton's support among voters of her own party waning, yet still enough to be seen as the primary favorite. While most voters — 54 percent — think the Democratic Party should look for a new face in 2016, a plurality (44 percent) of Democrats believes the party should promote a candidate who has already run in the past, though a growing 36 percent are looking for a newcomer.
Democrats, increasingly, are facing the danger 2016 could be labeled a "future versus past" narrative, particularly if Republicans DO NOT election former Florida Gov. Jeb Bush. A majority of unaffiliated voters — 58 percent — now say the Democratic Party should find someone new to run in 2016.
One of Hillary's biggest problems is not only that Americans are paying attention, but that they don't like the déjà vu they are seeing. The Reuters/Ipsos poll showed that Americans, including two-thirds of Democrats, were aware of the email controversy.
About half of Democrats said they thought Clinton was composed during the March 10 news conference, but 14 percent said they thought she was evasive and another 17 percent said she flat-out avoided answering questions.
Even if Hillary survives the email scandal, which will almost certainly require there being "no there, there," her troubles don't end with the recent email controversy, or her response that was perceived by voters as entitled and combative.
While voters have national security concerns about Clinton's email habits, they find the large donations made to the Clinton Foundation by foreign governments more troubling than the email controversy. Roughly half were concerned about the emails in the immediate wake of the story, but 57 percent didn't like what they were smelling when they heard of the foreign donations, the story Democratic operatives are most concerned with, as well.
To be fair, the same is true for Republicans if they nominate a Bush, which PPD previously examined. However, the number of controversies and degree to which they are known is not an apparent problem for any of the prospective GOP hopefuls — yet.
We have been tracking the impact of the Benghazi terror attack on public opinion since May 2013, when Quinnipiac University measured the first marked hit to her favorables from the details surrounding the attack. In January 2014, 46 percent said they believed it would hurt her 2016 chances. In May 2014, a majority of Americans first said they believed she lied about the events and her role.
Now, more voters than ever before think the circumstances surrounding the murder of the U.S. ambassador and three other U.S. Embassy employees in Benghazi will hurt Clinton's 2016 bid.
That may be a lot to digest at once but it is food for thought, for Democratic primary voters.
The Rasmussen Reports survey of 1,000 Likely Voters was conducted from March 16 to March 17, 2015. The margin of sampling error is +/- 3 percentage points with a 95% level of confidence.
The Reuters/Ipsos online poll of 2,128 adults was conducted from March 10 to March 17, 2015. The margin of sampling error is +/- 2.5 percentage points with a 95% level of confidence.