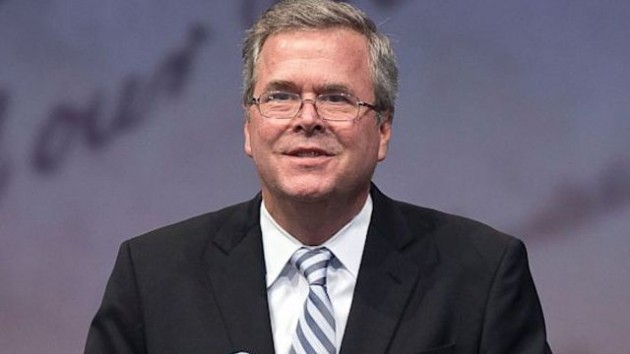 The donor class and notoriously inaccurate pollsters may be excited over another Bush running for the White House, but Republican voters aren't. A new PPD survey finds a slim majority — 51 percent — of Republican and Republican-leaning independents say they are less likely to vote in 2016 if Jeb Bush is the nominee, and 48 percent of registered voters say they definitely will not vote for another Bush.
Further, just 29 percent of Republicans say the former Florida governor should run for president in 2016, but even among these voters, just 14 percent say they will definitely vote for Bush in their state primary or caucus.
What are the top reasons Republicans and Republican-leaning voters are opposed to a Bush candidacy/presidency?
While his stance on Common Core — the increasingly and broadly unpopular education standards — certainly hurts Mr. Bush, it isn't the number one reason voters won't support him.
"We don't need another Bush in the White House" tops the list with 42 percent, while "his stance on Common Core" (19 percent) is a distant second.
"Gov. Jeb Bush appears to be slightly ahead of the crowded 2016 GOP presidential field according to some polls," says PPD's senior political analyst, R.D. Baris. "But that's only because GOP primary voters haven't coalesced behind a single figure, and unlike 2012, the party has a very deep bench."
As of Dec. 29, 2014, Jeb Bush tops the PPD average of 2016 Republican nomination polls by 5.8 percent, largely due to a CNN/Opinion Research Poll that found a larger-than-average 10-point spread. Nevertheless, even if Bush made it to the general election, the PPD Poll suggests he may face a similar problem that potentially cost Mitt Romney the 2012 presidential election.
"In 2012, we saw millions of white voters in the Midwest and Northern states stay home rather than vote for Gov. Romney," Baris added. "In 2014, those voters largely came back in states with competitive races. As of now, though this could change, Jeb is just not inspiring them."
Working white voters have abandoned the Democratic Party in recent elections. Yet, Baris says it isn't enough for them to simply not support Democrats, but they also have to vote Republican for the GOP to overcome their built-in electoral vote deficit.
"By nominating an unexciting candidate in 2016, the GOP will throw away a perfectly winnable election," he said. "Populous, personable candidates fare far better in states Republicans must win for the map to work for them. Jeb is too much like Dad and too little like big brother."
Similarly, a recent Rasmussen survey of a 1,000 likely Republican voters found just 33 percent believe Bush should run for president in 2016, while just as many (34 percent) disagree, and another 33 percent are not sure.
The PPD Poll surveyed 1,000 likely Republican voters (2,010 registered voters) nationwide from December 27 – 28, 2014. The margin of error for the GOP subsample is +/- 2.5 percentage points with a 95 percent level of confidence.