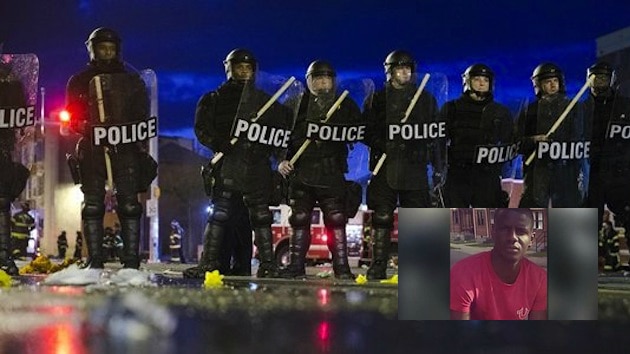 In the wake of the Baltimore riots, new polls show Americans continue to support police over activists claiming rampant police brutality is a reality in the country. The latest Rasmussen Reports survey finds just 25 percent of American adults believe the Baltimore riots were sparked by legitimate grievances, while 63 percent said it was predominantly the criminal actions of people taking advantage of a tragic situation.
Americans in their wisdom say that the recent and destructive actions carried out shortly after the death of Freddie Gray, a 25-year-old man who died as a result of a spinal injury suffered before or while in police custody, will only serve to worsen the criminal justice situation in Baltimore City, Maryland.
This is in line with polling PPD examined after the riots in Ferguson, Missouri last August, following the justified police shooting of a black 18-year-old, Michael Brown. While there was a significant difference between the sentiments of white and black America — or more accurately characterized, white and urban black America — just 25 percent said the mob protests were primarily legitimate outrage.
However, 52 percent saw it mostly as criminal behavior, or 11 percentage points less than those polled over Baltimore. A majority of American adults in most all demographic groups believe the mob violence in Baltimore was primarily criminal. Interestingly, women and adults under 40 are slightly more likely than men and older Americans to see it as mostly legitimate outrage.
Americans are clearly more concerned about order and property than the rights of protesters involved in the anti-police movement in Baltimore. While a sizable 43 percent are concerned that efforts by authorities to prevent violence and property destruction in situations like the one in Baltimore may violate the First Amendment rights of some protesters, 52 percent don't share that concern. The intensity is also against the anti-police movement, as 20 percent say they are "Very Concerned" and 25 percent say they are "Not At All Concerned."
This represents less sympathy for the situation in Baltimore than we saw in Ferguson.
There may be something to say for the "Hands Up, Don't Shoot" narrative being taken as Gospel by allegedly mainstream media outlets during a period of several months before the Department of Justice confirmed what PPD had reported — it was a lie. In fact, several prominent anchors and TV personalities refused to admit it was a lie even after the DOJ report.
Regardless, 70 percent of likely voters say the level of crime in low-income inner city communities is a bigger problem in America today than police discrimination against minorities. Further, 61 percent of all voters think the media overhypes incidents in which blacks are shot by white police officers, and a slightly higher 63 percent say this coverage is putting police officers in harms way.
There is also, unsurprisingly, a difference of opinion based upon the racial makeup of the respondents. Fifty-five percent (55 percent) of black adults view the mob violence in Baltimore as mostly legitimate outrage (again, more so among urban blacks), while 68 percent of whites and 64 percent of other minority American adults disagree.
Baltimore Mayor Stephanie Rawlings-Blake has come under fire for her comments and lack of leadership prior and during the rioting, and Americans are equally critical of her performance and ideology. PPD broke the story Wednesday that Rawlings-Blake twice told Maryland Gov. Larry Hogan on Monday that a National Guard presence was unnecessary — or, one might even say unwanted — and that she had in fact given a stand down order to the police believing Ferguson reacted too forcefully in the wake of the violence over Micheal Brown.
A majority of Americans believe mob violence only gets worse when officials do not act decisively, while only 34 percent disagree. A significant number — 16 percent — are not sure as of yet. However, specifically regarding the performance of Mayor Rawlings-Blake, only 29 percent rate her response as good or excellent. This is even more critical than the sentiment measured toward officials' responses in Ferguson.
So, clearly, the anti-police movement has some fundamental challenges to overcome in the court of public opinion. For the most part, Americans across the nation respect and have faith in the police and see them as a force for good.
Overall, 67 percent of American adults rate the performance of the police in their region or community as "good" or "excellent," while just 9 percent say they are doing a "poor" job.