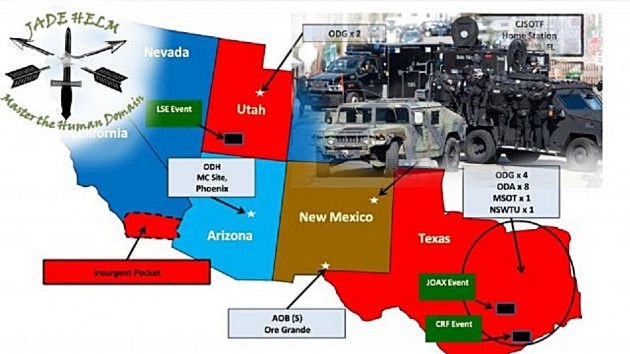 A new poll found 45 percent of likely voters are concerned Jade Helm 15, or U.S. military exercises taking place this summer in several southwestern states, is sinister in nature. Lasting for a duration of eight weeks, Jade Helm 15 is one of many operations that have taken place within the continental U.S., but a large number of Americans worry the government is preparing for martial law.
Even though most likely voters (65 percent) don't oppose such exercises in their states, the 45 percent who are concerned include 19 who are "very concerned." However, a 52-percent majority say they are not concerned, perhaps a reflection of the fact that Rasmussen finds they continue to hold the U.S. military in high esteem. Similarly, according to the annual Gallup Confidence in Institutions tracking survey, the military is consistently the most trusted institution in America.
Still, 62 percent of Americans believe there is too much government power and too little individual freedom in the U.S., and 82 percent of voters in the near-majority who say they are concerned about Jade Helm 15 say the federal government is trying to exert more control over the states and infringe on the rights of the citizens in those states. However, there is some overlap regarding concern for the government's motives, as 34 percent of those who favor military exercises in their state share that concern.
On the overall question of whether the U.S. military should conduct training exercises in their state, a significant 19 percent said they were not sure.
Not surprisingly, ideology trumps even party on the issue. While 56 percent of conservatives are concerned that the training exercises will lead to greater federal control over some states, only 50 percent of Republicans overall agree. Fifty-eight percent (58 percent) of moderates and 67 percent of liberal voters are not concerned, compared to 38 percent of Democrats and 46 percent of unaffiliated voters who say they are.
With Jade Helm 15 attracting at least marginal media coverage, though it is far more prominent on the Internet, the results are not too surprising. Only 20 percent of voters now consider the federal government a protector of individual liberty, and 60 percent see the government as a threat to individual liberty.  Only 19 percent trust the federal government to do the right thing "all" or "most of the time."
[brid video="8398″ player="1929″ title="Alex Jones Says ABC Lying About NoShow 'They're Afraid I Run Over Them'"]
READ FULL ARTICLE: http://ppdnews.us/1HbCQvB
The survey of 1,000 Likely Voters was conducted on May 7 and 10, 2015 by Rasmussen Reports. The margin of sampling error is +/- 3 percentage points with a 95% level of confidence. Field work for all Rasmussen Reports surveys is conducted by Pulse Opinion Research, LLC. See methodology.