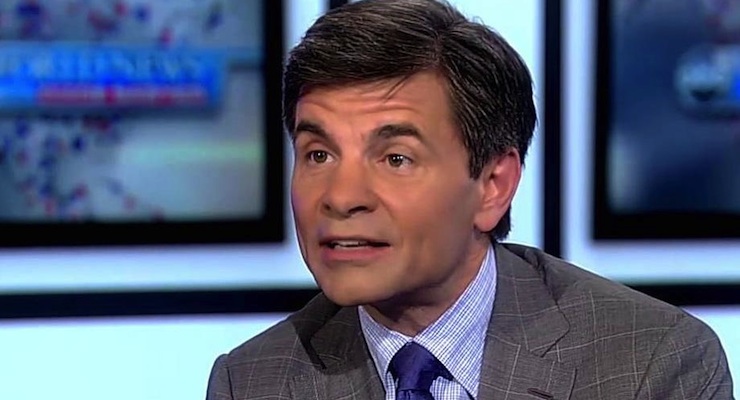 There have been growing calls for George Stephanopoulos, a former Clinton operative-turned-ABC News anchor, to step down amid revelations he failed to disclose donations to the Clinton Foundation. Despite two attempts to apologize for what he characterized as a "failure to take the extra step" and disclose this relationship before interviewing Clinton Cash Peter Schweitzer, a plurality and near-majority of the American people say he needs to be banned from covering the 2016 presidential election.
According to a new Rasmussen Reports poll, 46 percent of likely voters say ABC News should ban Stephanopoulos from any programming related to the 2016 presidential campaign due to his relationship with Hillary Clinton, who is running for president. Meanwhile, 36 percent of respondents disagree, but 18 percent, who consequently report being less aware of the story, are undecided.
Interestingly, the number of voters who say Stephanopoulos needs to go is higher than those who were calling for the removal of NBC Nightly News anchor Brian Williams, who was recently caught lying about a story he often repeated, claiming the helicopter he was traveling in while covering the Iraq War in 2003 took RPG and AK-47 fire. Numerous stories Williams had told over the years were simply not true.
But, then again, voters had always trusted Williams more than Stephanopoulos and he did have the highest rated network evening news program in America. Now, the former Clinton lackey has sacrificed his public image for grilling the man who exposed questionable dealings at the Clinton Foundation, without public disclosure, all with the aim to get back in the Clinton's good graces.
Only 34 percent of voters have a favorable opinion of Stephanopoulos, which is down 11 points from the 45 percent measured in February. However, that includes just 11 percent who say they have a "Very Favorable" opinion of him, while a greater 18 percent hold a "Very Unfavorable" view.
In total, his unfavorables have risen to 39 percent, with a sizable 27 percent saying they haven't heard enough about the senior ABC anchor's attempt to hide a $75,000 donation render enough of an opinion.
How much of a hit has ABC News taken over this story?
Forty-one percent of Republicans, 32 percent of Democrats and 30 percent of unaffiliated voters say they are less likely now to trust ABC News. The news agency now finds itself in a percarious situation, considering they just renewed his contract for $105 million.