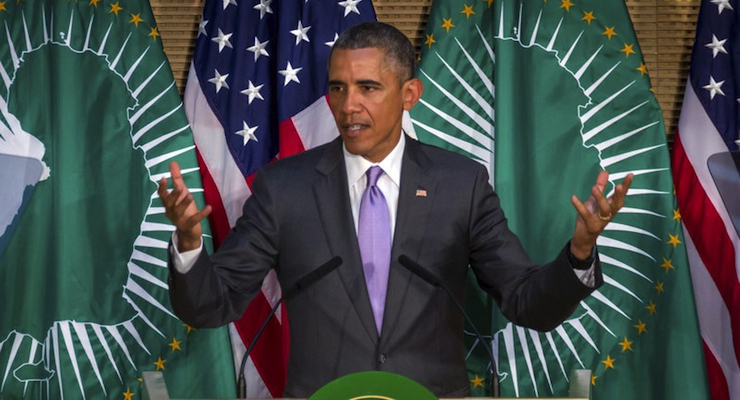 President Obama recently bragged he could win a third term if the law didn't prevent him from running again to occupy the White House, but voters disagree. While speaking in Ethiopia during his final speech on his African tour, he scolded the continent's leaders for staying in office too long.
"I actually think I'm a pretty good president," he said with a smirk. "I think if I ran I could win. But I can't. The law is the law, and no one person is above the law, not even the president."
Unfortunately, for Obama's ego, a new Rasmussen Reports survey finds that just 30 percent of likely voters say they would vote for the president if he ran for a third term. In this highly polarized political environment, it is viable to expect a number of his core supporters to come home in an actual election environment. However, a whopping 63 percent of likely voters polled flat-out said they would not vote for an Obama third term.
Critics pounced on the president for what they see as hypocrisy, considering he has ignored the law on immigration, ObamaCare and a host of other issues during his presidency. But the law the president was referring to is the 22nd Amendment to the U.S. Constitution, which limits a president to two four-year terms. The 22nd Amendment was ratified in 1951, following the near-never-ending presidency of Franklin D. Roosevelt, who won his fourth term in 1944. Prior to its ratification, presidents followed in the footsteps of the nation's first president — George Washington — who removed himself from office as a matter of virtue after his second term, despite overwhelming popular support for him to stay.
Obama is the first and only president to win reelection with a smaller majority of the popular and Electoral College vote, defeating John McCain by a 53 — 46 percent margin in 2008 but only earning 51 percent of the vote against Mitt Romney in 2012. Separate research conducted by PPD on available polling data shows Mitt Romney would handily defeat Obama in a rematch election. Worth noting, our research shows that it is true that Romney's popular vote margin would overestimate the actual Electoral College margin.
Party & Demographic Breakdown
A surprisingly small majority of Democrats — 57 percent — would vote to give Obama a third term, while 93 percent of Republicans, 32 percent of his own party and 68 percent of voters not affiliated with either major party, would not. Hillary is hoping to hold together the Obama coalition against her eventual Republican rival in 2016 due to the bleeding of support for Democrats among working- and educated-class whites. But there's some indication that Obama is having a hard time holding his own coalition, as 69 percent of black voters would vote to elect Obama to a third term, compared to only 22 percent of white voters and 39 percent of other minority voters.
Only 19 percent of all likely voters say that the 22nd Amendment should be changed so presidents can serve longer, but a dominant 78 percent are opposed to such an idea. Though only 32 percent of Democrats support changing the constitutional restriction, which is meant to safeguard against popularly supported executive tyranny, the number includes 54 percent of black voters. The Democratic Party's core voting bloc represents the only demographic group willing to throw the safeguard out, as only 22 percent of white voters and 39 percent of other minority voters agree.
By comparison, a whopping 90 percent of Republican voters and 82 percent of unaffiliated voters are vehemently opposed to the idea. Majorities of voters across every demographic group — save for black voters — oppose both changing the Constitution to allow presidents to serve more than two terms and would not vote for Obama if he ran for a third term. Among voters who favor changing the Constitution to allow presidents to serve more than two terms, 74 percent would vote for Obama if he ran again.
Unsurprisingly, the older the voter the less likely they are to say they would vote for Obama. According to the PPD average, Obama's approval rating has ticked back up into the mid-40s, though this presents a challenge to the eventual Democratic nominee.
The survey of 1,000 Likely Voters was conducted on July 28-29, 2015 by Rasmussen Reports. The margin of sampling error is +/- 3 percentage points with a 95% level of confidence.