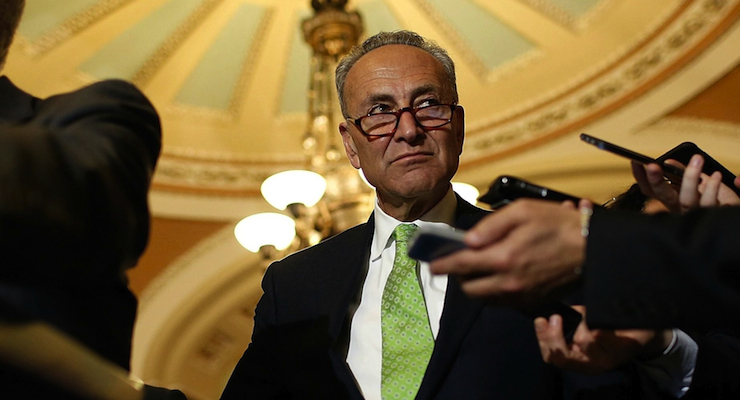 Polls on Iran Deal Continue to Show Declining Support
PPD has been tracking support for both a generic Iran nuclear deal and the specific agreement announced by President Obama in July. For Democratic lawmakers on the fence, particularly those up for reelection in 2016 and 2018, the numbers aren't getting any better. According to a new poll from Quinnipiac University, American voters oppose the Iran nuclear deal by a 57 – 28 percent margin, which includes only weak support from Democrats and overwhelming opposition for Republicans and independent voters.
Jessica Rosenblum, a spokeswoman for the liberal Jewish group J Street, said Chuck Schumer, D-N.Y., will "have the support of the majority of American Jews" if he backs the deal. However, this statement is not backed by data from the recent Quinnipiac Poll or the average and aggregate polling data tracked by PPD.
Do you support or oppose the nuclear deal with Iran?
                     Tot    PPD    Rep    Dem    Ind    Men    Wom
 
Support              28%    31%    03%    52%    29%    30%    27%
Oppose               57%    55%    86     32     55     58     56
DK/NA                15%           11     16     16     13     17 

68. Do you think the nuclear deal with Iran would make the world safer or less safe?
                     Tot    PPD    Rep    Dem    Ind    Men    Wom
 
Safer                30%    26%    04%    54%    30%    30%    29%
Less safe            58%    54%    87     32     58     59     56
DK/NA                12%           09     14     12     10     15

"There's not a lot of love for the proposed nuclear deal with Iran. Only a bare majority of Democrats support the pact," said Tim Malloy, assistant director of the Quinnipiac University Poll. As has been the case with previous surveys, Americans voters say by a wide margin (58 – 30 percent) the nuclear pact will make the world less safe. On average, just 26 percent of American voters believe the Iran deal will make the world or region a safer place. Among the worst of results on this question was seen in a recent Rasmussen Reports survey, which found an abysmal 22 percent agree.
The latest Quinnipiac Poll, which was the first taken since administration officials attempted to defend details of the deal to lawmakers, has now tanked average support for the deal to just 31 percent, while 55 percent are now opposed. With respect to the claim made by Rosenblum regarding Jewish voters, majority support for the Iran deal is found only among black voters.
A wealthy New York City Jewish donor who spoke to PPD over the weekend on the condition of anonymity said he didn't need a poll to tell him Sen. Schumer would be listening to Rosenblum at potentially high cost — his own political peril.
"Mr. Schumer has been billing himself to me and other New York Jews as the defender of the Jewish state for years," he said. "For the first time in his career, we are truly going to test that sales pitch. If the polls mean anything to me, it's that the voters are prepared to test it, too."