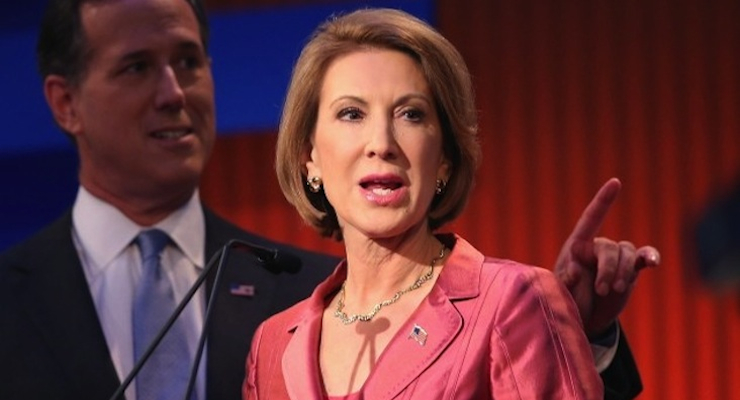 Carly Fiorina has surged to third place in a new post debate poll from Rasmussen Report, while support for frontrunner Donald Trump has fallen by a third. The former Hewlett-Packard CEO and Republican presidential hopeful was the clear winner of the first Republican debate that took place Thursday in Cincinnati, Ohio.
"You're lucky you weren't here earlier," Fox News host and debate moderator Megyn Kelly said in the open to the prime-time debate. "She opened a can of you-know-what before."
Kelly, who otherwise had a highly-criticized night, was obviously correct and the voters are beginning to respond. Carly Fiorina brought her A Game on issues of foreign policy, domestic policy, and effectively articulated the philosophical differences between party ideology and, of course, frontrunner Donald Trump.
"He is the party's frontrunner right now and good for him," the only female GOP candidate said. "He's tapped into an anger that people feel. They're sick of politics as usual. I'll tell you this. Since he has changed his mind on amnesty, on health care and on abortion, I would just ask what are the principles by which he will govern?"
For Fiorina, it was the first opportunity to introduce herself to American voters, including Republicans, Republican-leaning independents and even Democrats. And she took advantage of what turned out to be an even bigger opportunity than several second-tier campaigns anticipated. The second-tier candidate debate at 5 PM ET drew a whopping 6.1 million viewers, according to Nielsen TV ratings, making it the third-highest rated primary debate of all time. The previous champ was ABC News, which hosted a debate that drew 7.6 million on December 10, 2011.
In the new post debate poll, Florida Sen. Marco Rubio and former Florida Gov. Jeb Bush are tied for second place with 10 percent support, with Fiorina and Wisconsin Gov. Scott Walker tied for third at 9 percent. Neurosurgeon Ben Carson, who edged out Donald Trump in the Gravis Marketing "Who Won?" Post Debate Poll, came in fourth with 8 percent of the vote, up from 5 percent in the Rasmussen Reports poll conducted late July.
While Fiorina saw the biggest jump, up from just 1 percent in the previous survey, Trump saw the biggest decline, falling 9 points from 26 to 17 percent. The Donald still leads the pack in the PPD average of national polls at 22.8 percent, while Fiorina trails with an average 2.8 percent. However, with Rasmussen conducting the first large sample national primary poll since the debate, Fiorina's support will likely continue to be underestimated in the national average. Whether her newfound support turns out to be a simple post-debate bump or prove to have staying power, remains to be seen.