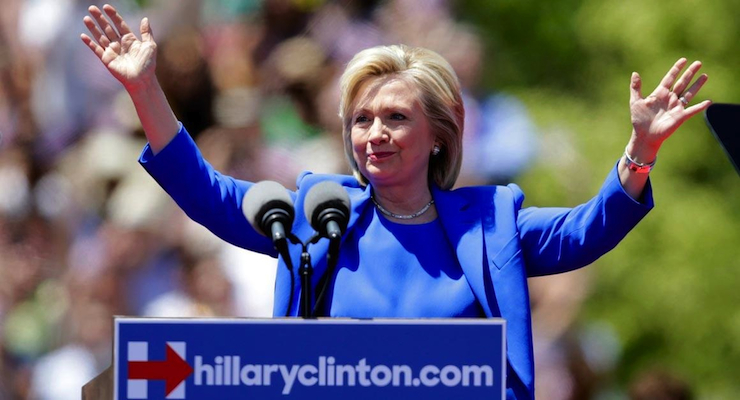 Hillary May be Joking About Seriousness of Email Scandal, But Voters Aren't
While voters are nearly split on the question, a plurality say Hillary Rodham Clinton should suspend her campaign until the legal questions are answered. A new Rasmussen Reports survey finds that 46% of likely voters believe Clinton should suspend her campaign for the Democratic presidential nomination, including 24% of Democrats. Nearly as many–44%–disagree, according to the survey, while 9% are undecided.
Compared to Democrat voters, a whopping 73% of Republicans and 46% of voters not affiliated with either major party want the former secretary of state to stop campaign for president until all of the legal questions about her use of the private e-mail server are resolved. At the heart of Clinton's challenges is a lack of trust and American viewing the email controversy as a more serious situation.
While 45 percent of all voters (18% of Democrats) now consider Clinton's use of a private e-mail server while serving as secretary of State to be a serious scandal, 54% say it is a serious national security issue. Meanwhile, just 23% say it's no big deal, and only 37% say they could trust the former first lady, senator and secretary of state to be honest. Perhaps the most damaging aspect of the email controversy has been her falling poll numbers, because it has sucked the air of inevitability surrounding her campaign out of the room.
The latest Hillary Meter shows that 63% believe that Clinton is likely to be the next Democratic presidential candidate, but just 26% say it is "Very Likely." That compares to 78% and 43%, respectively, found by the Meter just a month ago, with 30% now considering that outcome unlikely and 11% feeling it is "Not At All Likely." That overall figure is up 10 points from the previous survey.
The survey of 1,000 Likely Voters was conducted on August 23-24, 2015 by Rasmussen Reports. The margin of sampling error is +/- 3 percentage points with a 95% level of confidence.