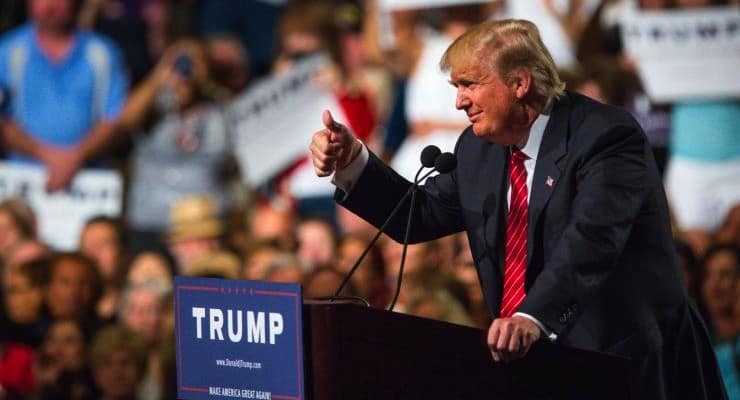 The recently released 3-point Donald Trump immigration plan might have been mocked by media pundits, but voters and experts give the plan high marks. A new poll conducted by Rasmussen Reports and released Wednesday finds American voters strongly back The Donald's immigration plan.
On the Republican frontrunner's plan to build a wall on the U.S.-Mexican border, 70 percent of likely Republican voters and over 50 percent of the likely general electorate agree. A whopping 92 percent of Republicans and 80 percent of all likely voters agree that the U.S. should deport all illegal immigrants who have been convicted of a felony in this country–point two in the Trump immigration plan–while just 4 percent disagree. A separate Rasmussen Reports survey released this week found 51 percent of likely voters believe illegal immigrants are taking jobs away from U.S. citizens.
The third point in the proposal took the most heat from mediates and nay-sayers, by far. However, 54-percent majority of voters disagree with the current federal policy that says a child born to an illegal immigrant here is automatically a U.S. citizen, otherwise known as the anchor baby and birth-rite citizenship policy. Voters aren't the only voices crying out in support of the proposal, either.
Norm Matloff, a self-described Democrat, professor at UC Davis and "longtime admirer" of socialist Sen. Bernie Sanders, gave the "surprisingly detailed" Trump immigration plan an A+ in a blog post Monday night. Matloff has written extensively about the failures of the H-1B visa program, which has been widely cited in the academic and reform communities.
Worth noting–and, for those who read PPD, you know we have been a very, very vocal critic of Rasmussen Reports–the firm made a great point on the tricky and often misleading pollster data on immigration.
Gallup (PPD Pollster ScoreCard Rating: B-)released a new survey last week with the headline, "In U.S., 65% Favor Path to Citizenship for Illegal Immigrants." But the actual question shows that 65 percent of Americans favor a pathway to citizenship for illegal immigrants "if they meet certain requirements over time." Unspecified in the question is what those requirements are and the length of time in question.

Rasmussen Reports has found consistently for years that most voters want the border with Mexico secured to prevent further illegal immigration before there is any talk of amnesty. In May, 63 percent said gaining control of the border is more important than legalizing the status of undocumented workers already living in the United States, the highest level of support for border control since December 2011.
On this one, Rasmussen is dead on and, Gallup, which is following in the misleading footsteps of 2014's notoriously inaccurate Pew Research (PPD Pollster ScoreCard Rating: D+), should reassess their reporting.
The survey of 1,000 Likely Voters was conducted on August 17-18, 2015 by Rasmussen Reports. The margin of sampling error is +/- 3 percentage points with a 95% level of confidence.