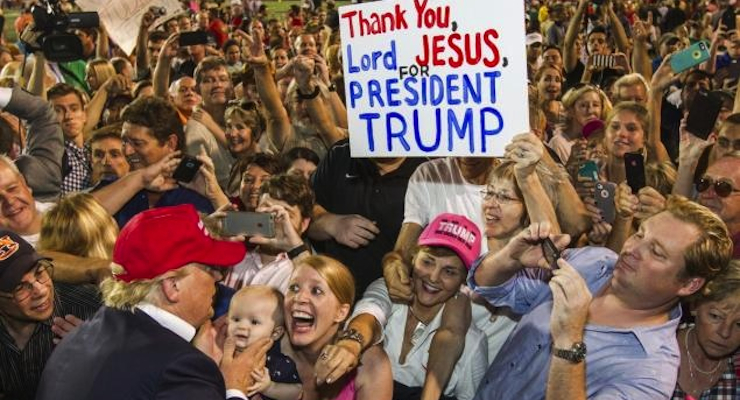 Trump Now Way Out in Front in 2016 Republican Nomination Polls
In the latest national Republican nomination poll conducted by Gravis Marking for One America News Network, frontrunner Donald Trump has hit the 40% mark. The survey marks the first time since any candidate–let alone the real estate mogul–has broken above the so-called 30% ceiling pundits have pegged him at.
"It's surprising to see how fast Donald Trump has moved up in the polls since the debate," Robert Herring, Sr., CEO of One America News Network said in a statement. "Claims by media that Trump peaked in July have proven to be false."
The Donald's support has increased nearly 10 percentage points in the crowded GOP field since the previous survey released July 31. Dr. Ben Carson, another political outsider in the race who won the Post GOP Debate Poll conducted by Gravis/OANN, as reported by PPD, has increased 7 points and moved into second with 13.0%.
Rounding out the top five and capturing a higher percentage of the GOP vote is Texas Sen. Ted Cruz at 7.0% and former Hewlett-Packard CEO Carly Fiorina with 5.2%. Fiorina has experienced the biggest jump moving from a previous 12th place, non-main stage debate position, into the top five. Three of the top five, namely Trump, Carson, and Fiorina, have never held office. In the latest poll, the top five candidates accounted for 75.3% of the vote, compared to 68.3% in the July 31 poll. Six candidates enhanced their result percentage (shown in green) while nine candidates dropped in their poll performance (shown in red).
When the Gravis/OANN survey is included, Trump now holds a commanding 16-point lead in the PPD average of Republican nomination polls with 26.5%.
"We're seeing consolidation as the voters get more familiar with the candidates. Carson, Cruz, and especially Fiorina have some strong post-debate momentum," Herring added. "Yet, we're still very early in the process and history has proven that early leaders can fall."
Gravis Marketing, a nonpartisan research firm, conducted a random survey of 3,567 registered voters across the U.S. regarding the presidential election. The poll has a margin of error of +/- 2%. The total may not equal exactly 100% due to rounding. The polls were conducted on August 21-22 using interactive voice response, IVR, technology and weighted separately for each population in the question presented.