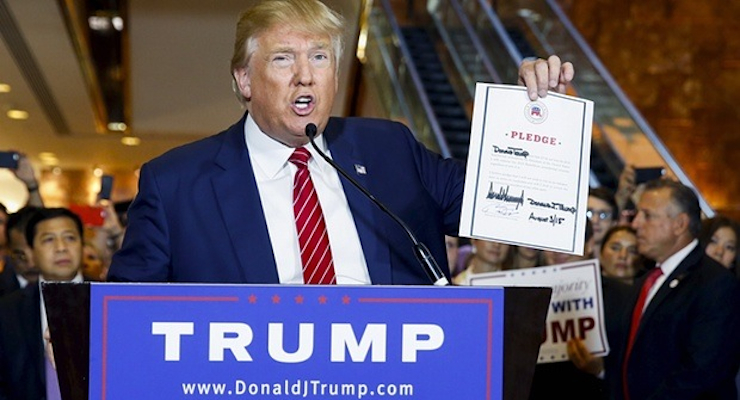 No Wonder Republican Frontrunner Signed the Loyalty Pledge
On Thursday, Donald Trump signed the GOP loyalty pledge following a half hour meeting with RNC Chairman Reince Priebus at Trump Tower in New York City. The party establishment wanted the candidates to sign the pledge, which was in truth directed at The Donald, after he honestly refused to rule out an independent run at the Fox News debate if he wasn't treated fairly by party power-brokers.
Fox News anchor Shephard Smith questioned on air "what changed" that led him to sign the pledge. Well, Shephard, perhaps he is thinking the same thing a supermajority of American likely voters are thinking–he's going to win the Republican nomination. The "Trump Change," a new index conducted and released by Rasmussen Reports that measures the percentage of voters who think the billionaire real estate mogul is likely to be the Republican presidential nominee next year, has absolutely exploded.
The survey finds 66% of likely Republican voters now say it is at least "somewhat" likely that Donald Trump will be the 2016 Republican nominee for president. Astonishingly, nearly as many voters (21%) now say it is "Very Likely" he will win the nomination than the entire 27% who said it was at least "Somewhat Likely" in the index released after he announced his bid. Further, 51% say it is "Likely," while 30% say it is at least somewhat likely that he will win the Republican nomination. While 33% of Republicans still say Trump is unlikely to be their nominee, including 13% who say it is "Not At All Likely," those numbers are down compared to 38% and 12%, respectively, who said so just one a week ago.
Even among all likely voters, 51% now say Trump's lead will not fade, which is includes 21% who say it is very likely he will face the eventual Democratic nominee. Still, 45% can't see a Republican National Convention featuring Trump, including 21% who say it's not at all likely, though these numbers are virtually unchanged from the previous survey. Meanwhile, it's a good thing Trump decided to sign the pledge if you are a Republican voter, because a whopping 36% say they will vote for him if he runs as an independent.
According to the PPD average of national Republican nomination polls, Trump is leading the pack with roughly 30% of the vote with Dr. Ben Carson a distant second at 18%. In the latest survey conducted by Gravis Marketing (PPD Pollster Scorecard Rating: A-) The Donald has broken the 40% mark, while he hit 30% in the latest Monmouth University Poll (PPD Pollster Scorecard Rating: B-). Including the surveys released today, Trump tops socialist Vermont Sen. Bernie Sanders and is tied with Democratic frontrunner Hillary Clinton in a general election matchup, which represents a 30-point swing since July.
The survey of 1,000 Likely U.S. Voters was conducted on September 2-3, 2015 by Rasmussen Reports. The margin of sampling error is +/- 3 percentage points with a 95% level of confidence.