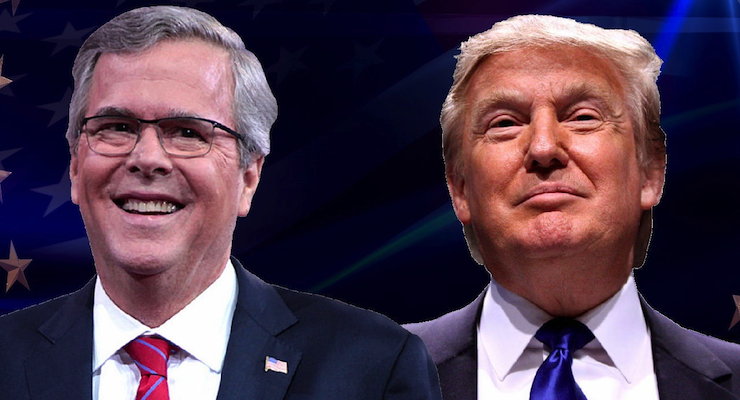 Frontrunners Donald Trump and Hillary Clinton have expanded their leads over their rivals in the latest Florida primary poll conducted by Gravis Marketing. Trump, who leads both Florida natives former Gov. Jeb Bush and Sen. Marco Rubio by double-digits, holds a 12 point lead over his closest rival Dr. Ben Carson, 34% to 22%.
"Donald Trump, Carly Fiorina and Ben Carson have never held office and have over 50% of the vote," said Doug Kaplan, President of Gravis Marketing. "Carson is strong with more religious voters, but it will be interesting to see if either has hit there plateau."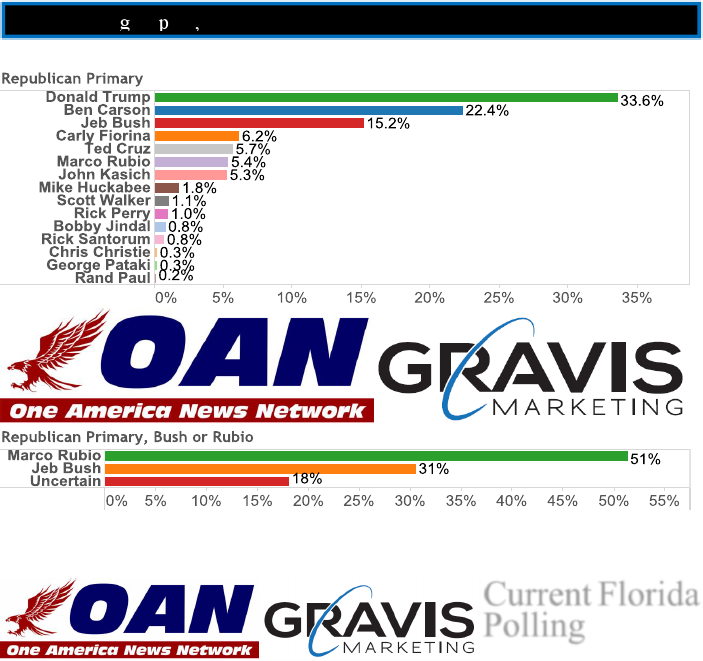 In a hypothetical matchup between Gov. Bush and Sen. Rubio, the Cuban-American Republican senator holds a whopping 20-point lead over his friend and the brother of the 43rd president, who carried the state twice in 2000 and 2004, respectively. Rubio earns 51% of the vote against Bush's 31%, but trails him, former Hewlitt-Packard CEO Carly Fiorina (6.2%) and Texas Sen. Ted Cruz (5.7%) with 5.5% when polling the crowded field of candidates.
"What is most interesting is this is a state that Bush and Rubio live and elected," Kaplan added. Trump now leads in the PPD average of Florida Republican primary polls by 9 points with nearly 30% of the vote.
Meanwhile, Hillary Clinton still dominates her potential and declared rivals in the Sunshine State, underscoring PPD's argument in our first expanded analysis of our election forecast model. Clinton's strength among black voters, Hispanics and women voters–at least for now–is more than enough to fend off a challenge from socialist Sen. Bernie Sanders.
"We see Hillary Clinton's strength with African American and Hispanic voters in these results," Kaplan said. Though the former secretary of state earned a whopping 65% of the vote in the prior Gravis Marketing Poll (PPD Pollster Scorecard Ratings: A-) conducted in June, and from 55% to 47% on the PPD average of Florida Democrat primary polls, she still leads in the average by a wide margin.
In the latest survey, Hillary takes 41.6% of the vote in a six-way race with Sanders (12.5%), Vice President Joe Biden (21.4%), former Maryland Gov. Martin O'Malley (1.5%), former Virginia Sen. Jim Webb (1.3%) and Rhode Island Gov. Lincoln Chafee (0.4%).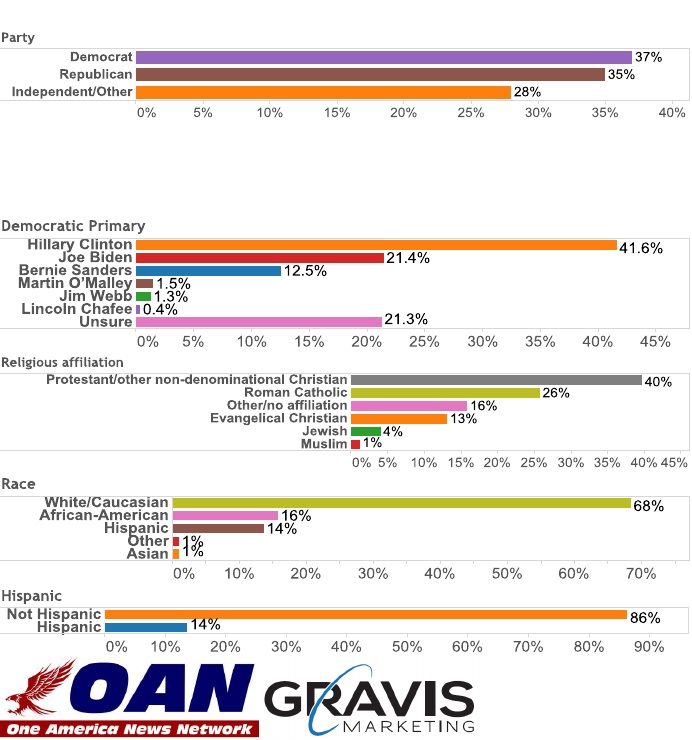 Gravis Marketing, a nonpartisan research firm, conducted a random survey of 1,584 registered voters in Florida regarding the presidential election. The poll has a margin of error of ±3% for the 891 Republicans and ± 4% for the 693 Democrats.