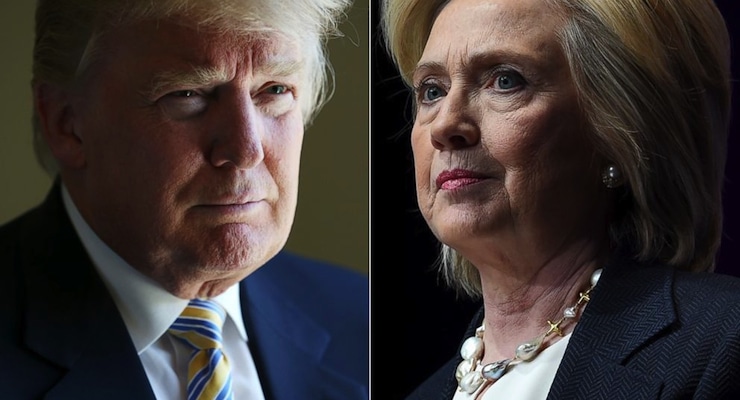 Trump Dominates Hillary on Economy, Jobs and Immigration
Republican frontrunner Donald Trump is absolutely dominating Democratic frontrunner Hillary Clinton on the top issue for Election 2016 voters–the economy. According to a new poll conducted by Rasmussen Reports, Trump holds a double-digit lead in voter trust on the economy, immigration and is slightly ahead in national security.
By a a 50% to 38% margin, voters trust Trump more than Clinton to handle the economy and job creation, which are seen as the top issues by 72% and 62%, respectively. For comparison, former Massachusetts Gov. Mitt Romney held an average 4-point lead on President Barack Obama on the issue of the economy, according to the PPD average leading up to Election 2012. The average turned out to be identical to the margin in exit polls taken on Election Day. That advantage wasn't enough to carry the day for the Republican nominee, who lost the popular vote 51.1% to 47.2%.
"The Donald" holds an even wider lead over Clinton on immigration–an issue seen as most important to 42% of voters–52% to 38%. Even though mediates and talking heads have claimed the issue will damage him in the general election, PPD has repeatedly (here and here) pushed back on that Beltway wisdom. First, Trump received high marks on his 3-point immigration plan and voters by a large margin agree with him on the major points of his argument including birthright citizenship, securing the border and deportation, the negative impact on the labor market and crime from illegal immigration.
"Most voters expect biased media coverage of the 2016 presidential race, and the media response to recent immigration comments by Hillary Clinton and Donald Trump is a good case in point," says Fran Coombs, the managing editor of Rasmussen Reports.
In fact, slightly more than one-in-four Democrats (26%) trust Trump more than Clinton on immigration.
Meanwhile, despite her time as secretary of state, which Democrat surrogates repeatedly cite, voters also give Trump a narrow 46% to 42% edge on national security, while 13% are undecided. Though Clinton holds modest advantages on social issues (44% to 40%) and the environment (45% to 42%), Democratic candidates historically enjoy much wider leads over Republicans on these second-tier concern issues.
http://www.rasmussenreports.com/public_content/politics/mood_of_america/importance_of_issues.
The survey of 1,000 Likely Voters was conducted on September 2-3, 2015 by Rasmussen Reports. The margin of sampling error is +/- 3 percentage points with a 95% level of confidence.
| | |
| --- | --- |
| Top Issues for Voters | Very Important |
| Economy | 72% |
| Job creation | 62% |
| Health care | 67% |
| Gov. spending | 63% |
| Education | 58% |
| Social Security | 61% |
| Gov. ethics and corruption | 58% |
| Taxes | 51% |
| Small business | 46% |
| Gun control | 52% |
| Energy | 48% |
| National Security | 44% |
| Immigration | 42% |
| Environment | 37% |
| War in Afghanistan | 26% |