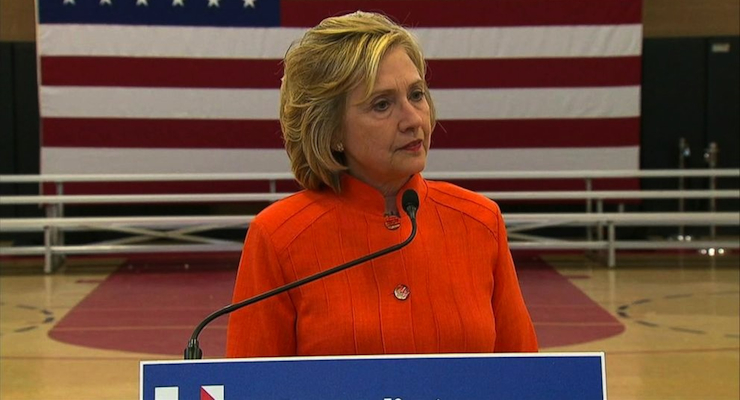 Hillary's Honest and Trustworthy Numbers Continue to Suffer
With her support in national and early state surveys falling precipitously, 59% of voters now say the former secretary of state likely broke the law by sending and receiving classified information on a private home brew server. A new Rasmussen Reports poll finds that just 34% believe it is unlikely Clinton did anything illegal, but numbers include 42% who say it is "Very Likely" she broke the law and only 15% who think it's "Not At All Likely."
With even 37% of her fellow Democrats saying it is likely Clinton broke the law–including 16% who say it is very likely–it should come as little surprise that the Democratic frontrunner is now trailing the Republican frontrunner Donald Trump in a head-to-head matchup, with The Donald dominating on the issues that are a top concern to voters. Eighty-two percent (82%) of GOP voters and 63% of unaffiliateds believe Clinton is likely to have broken the law.
In New Hampshire last month, Clinton faced toughed questions from Fox News' Ed Henry amid reports the FBI believes someone tried to wipe the server. Further, the FBI said they are "optimistic" that they can recover at least some of the data. "What, like with a cloth or something?" Hillary ridiculously said in response to Henry's question about whether or not she "tried to wipe the whole server."
This answer, as well as past answers, have not been sufficient in the voters' minds. Only 28% of all voters believe Clinton has done a good or excellent job handling questions about her use of the private e-mail server as secretary of State, including just 51% of Democrats. Meanwhile, 51% say her handling of these questions has been poor.
The survey of 1,000 Likely Voters was conducted on September 10 and 13, 2015 by Rasmussen Reports. The margin of sampling error is +/- 3 percentage points with a 95% level of confidence.