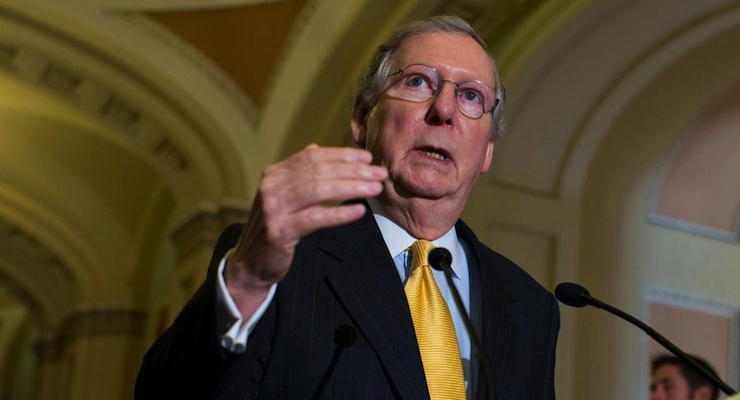 House Speaker John Boehner, R-Ohio, made a surprising announcement in September he is resigning his speakership and his seat effective October 30. The development was a welcomed one to Republican voters, and now they want Senate Majority Leader Mitch McConnell to go, as well.
According to a new Rasmussen Reports poll, just 22% of likely Republican voters want the longtime Kentucky senator to continue to serve as majority leader. Following Boehner's decision, which only 14% thought was a bad thing for congressional Republicans, 46% think Sen. McConnell also should resign and a sizable 32% said they are undecided. Conservatives viewed Boehner's resignation as a victory and some now think it is the opportune time to target McConnell.
"Now it's time for Senate Majority Leader Mitch McConnell (R-KY) to do the same. We are launching a new campaign today to organize grassroots opposition to Senator McConnell across the country," Senate Conservatives Fund President Ken Cuccinelli said in an email. "Senator McConnell is just as hostile to conservatives and our principles, if not more so, than Speaker Boehner."
As I have argued repeatedly, a bit of house cleaning is likely needed for the party to significantly change their perception among certain blocs of voters and to excite the party base enough to avoid a mass stay-at-home turnout as was seen in 2012. An August Gallup survey similarly found nearly twice as many Americans overall view him unfavorably (41%) than favorably (22%), which is largely fueled by deep unpopularity among those in his own party and GOP-leaning independents. Only outgoing Minority Leader Harry Reid, D-Nev., had a more unfavorable opinion held of him among American adults, but only by 1 point.
McConnell pretty much broke even among Republicans, with 34% seeing him favorably and 32% unfavorably. But still another third of Republicans in the poll said they don't really know McConnell or haven't heard of him (34%). Yet, in the more recent Rasmussen poll, more than half (52%) of self-described conservative voters think McConnell should quit as majority leader, while 32% of moderates and 38% of liberal voters agreed. Still, among all likely voters, 42% say McConnell should resign, while 25% disagree and 33% are undecided.
Interestingly, the highest levels of support for McConnell's resignation are among those who Strongly Approve of Obama's job performance and those who Strongly Disapprove of it. But Congress' ginormous disapproval rating spread–currently -59.5, according to the PPD average–is largely driven by Republicans. Most Republican voters have long felt that their congressional representatives are out of touch with the party's base, but only 24% now believe Republicans in Congress have done a good job representing their party's values.
The survey of 1,000 Likely Voters was conducted on September 28-29, 2015 by Rasmussen Reports and has margin of sampling error of +/- 3.0 percentage points with a 95% level of confidence.