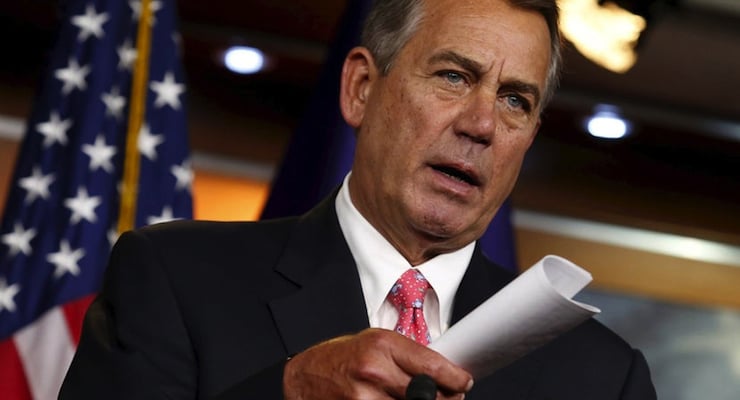 BREAKING NEWS: PPD has confirmed that House Speaker John Boehner, R-Ohio, will resign his gavel at the end of October, citing "irreparable damage" that could be done to the lower chamber in the event of an intra-party fight. The move that comes just one day after Pope Francis addressed a joint session of Congress.
"Speaker Boehner believes that the first job of any Speaker is to protect this institution and, as we saw yesterday with the Holy Father, it is the one thing that unites and inspires us all," the aide said. "… The Speaker believes putting members through prolonged leadership turmoil would do irreparable damage to the institution."
Speaker Boehner, who became the 61st Speaker of the United States House of Representatives, not only plans to step down as speaker but also resign from Congress, altogether. He currently represents Ohio's 8th congressional district and has since 1991, a district that includes several rural and suburban areas near Cincinnati and Dayton. On November 17, 2010, Boehner was unanimously chosen by the House Republicans as their nominee for Speaker. But it has been all down hill for the Ohioan since.
The decision comes as he faces an internal battle in the House GOP caucus over Planned Parenthood funding, which is just the latest in a string of disappointments that have outraged conservative members and Republican voters. During the fight over the $1.1 trillion cromnibus bill to fund the government and President Obama's executive amnesty, which barely passed the House in Dec. 2014, Boehner worked with the White House to get around members of his own party.
The plan funded the government through September 2015, but Boehner and GOP leadership argued immigration services would've only been funded through late February. By that time, a new Republican Senate majority will have more leverage to wage a battle over the president's widely denounced executive order on immigration. However, the strategy put conservatives in a position to decide whether to fund the Department of Homeland Security or shutdown the government, and they saw right through it.
"The first rule of hostage negotiations is that you never take a hostage the other side wants you to shoot," said Rep. Louie Gohmert, R-Texas.
In Jan. 2015, Gohmert announced he would challenge Boehner for the speakership, which grew into a serious movement that only fell 4 votes short. Eventually, the new 246-vote Republican House majority voted to reelect Rep. John Boehner as speaker to the 114th Congress, giving him a third term with the gavel even though it was far closer than most pols and pundits predicted.
However, this time around the resolve and public sentiment against Boehner was far more threatening to his post. According to the latest poll, which was conducted prior to the release of undercover videos exposing PPFA's trafficking of aborted baby body parts, roughly two-thirds of Republican voters said they wanted him to resign.
"He is proud of what this majority has accomplished, and his Speakership," the aide added. "But for the good of the Republican Conference and the institution, he will resign the Speakership and his seat in Congress, effective October 30."
Boehner, who previously served as the House Minority Leader from 2007 until 2011 and House Majority Leader from 2006 until 2007, was visibly emotional during Pope Francis' address to a joint session of Congress on Thursday (even more so than usual). He had been petitioning to get the Pope to speak to Congress since 1993, and though this decision had been in his mind for sometime, he wanted to leave on a high note.
Now, Majority Leader Kevin McCarthy, R-Calif., is believed to be next in line, though it has by no means been settled.
"It's not clear who will replace Speaker Boehner," said Senate Conservative Fund President Ken Cuccinelli in an email to PPD in response to the announcement."But you can be sure that SCF will hold that person accountable too."
McCarthy has ramped up his support for the conservative members of the chamber, including backing them in the fight against funding Planned Parenthood. The last time the House went to multiple ballots to choose a speaker was 1923.