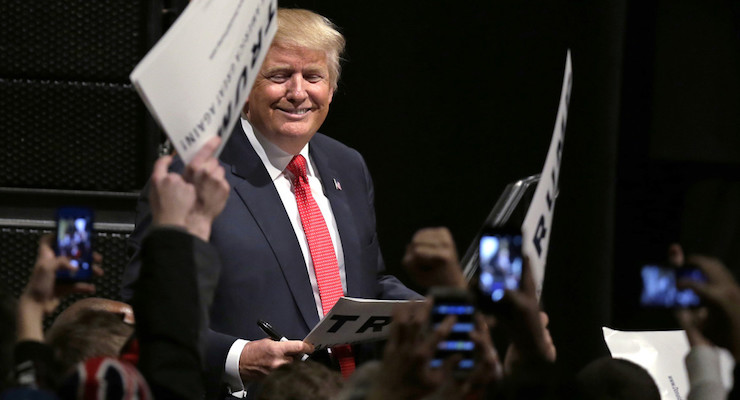 The Donald Strengthens Frontrunner Status in Latest Polls, Could Sweep Early States
Donald Trump holds a commanding lead nationwide and has retaken the lead against Texas Sen. Ted Cruz in the Hawkeye State with just one week to go before the Iowa caucuses. PPD's aggregate analysis of the latest polls for the week ending Saturday January 23, 2015, shows Trump poised for a big win in the early voting states.
The Donald leads his closest rival in the crowded GOP field by 15.8% on the PPD average of national polls. He now has more than a third of the vote (34.6%) to Sen. Cruz's 18.8%. The frontrunner leads across nearly all demographic groups, including evangelical voters (nationwide), which he briefly ceded to Cruz two weeks ago by 2 points. Trump's strength among the electorate is deep, with voters viewing him to be 1) the strongest leader on every issue except for abortion, and 2) the only candidate who can beat Hillary Clinton.
That number surged after Trump refused to back down against Clinton's war on women attack, instead raising the issue of Hillary's role in the mistreatment of Bill's alleged sexual assault victims.
While anything can happen in a week in politics, Trump may very well go on to sweep the early states. If the billionaire real estate mogul can either win or beat expectations in Iowa, which once hinged on whether he could convert independents over to caucusgoers, then he will go on to win New Hampshire (and likely South Carolina) easily. But Trump now only trails among evangelicals in Iowa by 3 points, and campaign insiders tell me they believe they will break caucus turnout records.
Diluting some of the predicted 55% white evangelical vote is a heavy lift, historically speaking, but polling appears to back them up. It is widely believed that Cruz has the better organization on the ground. However, whether that will be enough to close the 5.4% lead Trump holds in the PPD average of Iowa caucus polls, is an open question. The frontrunner leads Cruz in the two most recent caucus polls by an identical 11%, a heavy lift for even the most effective GOTV operation.
You don't need to be a political pundit to spot the trend and, as we previously warned, Cruz might have peaked too early.
The Granite State is a much better fit for Trump ideologically, thus it should come as no surprise that he holds a commanding 19.3% lead on the PPD average of New Hampshire primary polls. Ohio Gov. John Kasich, who has surged to second place, is still far behind the frontrunner 31.8% to 12.5%.
The Kasich camp touts their ground game, much like the Cruz team does in Iowa, but with Florida Sen. Marco Rubio (10.5%), Gov. Jeb Bush (8%) and New Jersey Gov. Chris Christie (7.5%), all vying for the same vote, Kasich's room to grow by such a significant margin is limited. We are curious to see how Granite State voters will react to Christie's decision to return to his home state to manage the crisis, a move that may just spark a memory of his leadership post-Hurricane Sandy.
There is a long way to go until voters in the Palmetto State get to have their say. But, as of now, Trump (35%) holds a 14.5% lead over Cruz (20.5%) in South Carolina. Rubio (11.5%) moved quickly to gobble up support from the state's politicos, but he hasn't gained traction among actual voters.
Unsurprisingly, the endorsement of longtime Sen. Lindsey Graham, who was polling next to nothing in his own home state before dropping oute, hasn't done enough to move the needle for Bush on the PPD average of South Carolina Republican primary polls.
While Bush jumped 3 points to 10%, he is still stuck behind Rubio with Kasich (2.5%) and Christie (2.5%) drawing much-needed support from the same ideological lane.
In Florida, where 99 delegates are up for grabs in a winner-take-all contest, both Rubio (13.3%) and Bush (10.7%) are abysmally trailing Trump (38.3%), who leads Cruz (19%) in second place by 19.3%. The PPD average of Florida Republican primary polls could actually be understating the frontrunner's lead. The latest polls show Trump with a much larger (32%) share of the vote and, the PPD Sunshine State Survey last week showed Trump hitting the crucial 50-percent threshold.
Pundit's Perspective
Again, while anything can change over a week in politics, the latest polls suggest that the TV pundits are about to suffer a serious blow to their professional credibility, not to mention their egos. Though we won't name names, largely because we all know who they are, pundits have embarrassingly refused to take Donald Trump seriously. Thus, by extension, they refused to take the message from voters seriously.
This week, the National Review came out with a 22-essay special issue "Against Trump," which was authored by some I respect and some I do not. But as someone who speaks to hundreds of voters each week, I will tell you that this move was not only foolish but actually had an adverse impact. Trump's strength comes from their failure and, whatever their conservative credentials (though many have none), they have yet to understand that unfettered immigration and radical Islam are seen as a direct threat to American values.
Voters, as they have been for sometime, are genuinely fearful for the future of the nation if these two issues are not addressed. While elites ponder and lecture voters about the principles of conservatism, common sense tells them there will be no conservatism if the status quo continues. They didn't listen and, now, it would seem that the voters are about to send the pundits and the party elite a message they cannot ignore.