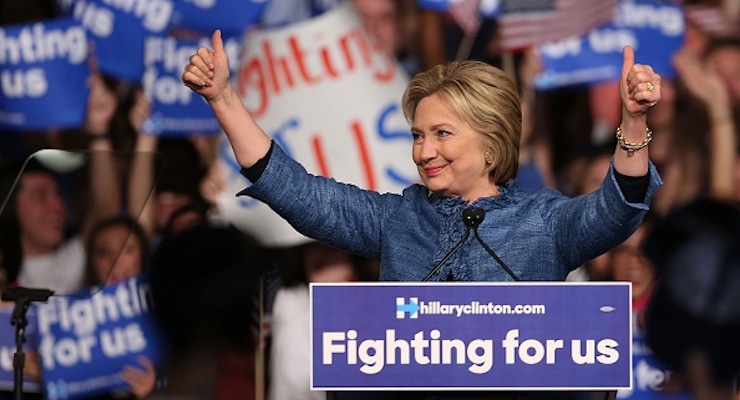 A new statewide Merrill poll gives frontrunners Donald Trump and Hillary Rodham Clinton double-digit leads ahead of the Arizona primary on March 22. But a large percentage of voters on both sides of the aisle–30% of Republican and 26% of Democratic voters–say they are still undecided.
Arizona pollster Bruce Merrill conducted the survey along with Phoenix-based Westgroup Research and, among Republicans, Mr. Trump leads Texas Sen. Ted Cruz with 31%, mirror other polls showing the business mogul with a lead in Arizona primary polls. Mr. Trump leads on the PPD average of Arizona Republican Primary polls by 14.5%.
Sen. Cruz is second with 19% followed by Ohio Gov. John Kasich, with 10%. The poll was conducted prior to Tuesday's results, which knocked Florida Sen. Marco Rubio out of the Republican race and has given Mr. Trump a significant boost in other upcoming state polls.
Meanwhile, on the Democratic side, Hillary Clinton has a 50% to 24% lead on Vermont socialist Sen. Bernie Sanders, which was before he was essentially blown out on Tuesday.
Sanders campaigned in downtown Phoenix at the Phoenix Convention Center on Tuesday and Mr. Trump has no less than four rallies set in the state before the winner-take-all contest. There are 58 delegates up for grabs on the Republican side and 85 delegates on the Democratic side, though the latter are allocated on a proportional basis.
When pitting the candidates in a head-to-head, only Mr. Trump is competitive against Mrs. Clinton, though a large number of voters remain undecided. Clinton's support among Hispanic voters and the cross-over advantage she received from Republicans against Trump largely explain why she is competitive in Arizona. However, that is typically the case in the otherwise fairly safe Republican state.
"One thing to note, however, is that contrary to what we found in the primary election, the percentage of voters who are undecided is relatively low across these match-ups, so there's less room for change."
Hispanic voters in Arizona aren't impacted by the issue of immigration as much as they are on economic issues and government programs. A recent poll conducted for the Cronkite School of Journalism at Arizona State University by the Morrison Institute for Public Policy showed that there was no significant difference between attitudes in Latino communities and white communities on the issue.
"Whites (53 percent) and Latinos (47 percent)" agreed "Arizona should aggressively pursue the deportation of undocumented immigrants" in the survey.
Another hidden reason Mr. Trump is not putting Mrs. Clinton away is the battering he is taken by voters supporting other candidates in the primary.
Meanwhile, in a head-to-head matchup between incumbent Republican Sen. John McCain, the 2008 GOP nominee for president, and Democrat Rep. Ann Kirkpatrick, Arizona voters are also evenly split. Sen. McCain earns 41% while Rep. Kirkpatrick draws 40%. Only 3% said neither candidate will get their vote and 16% were undecided.